One of the items that consumers have to contend with is inflation. Prices are always going up — even if wages are stagnating. Recently, one of the areas that has seen some rather dramatic inflation is dairy. According to Marketwatch, dairy prices rose 0.7 percent between January and February of 2014, and milk has risen by 10 cents a gallon since September 2013.
What does this mean for your grocery budget? It means that you could be spending more at the store. Rising dairy prices mean that you pay extra for more than just milk. Cheese, butter, cream, and other items also cost more when dairy prices rise.
Continues after Advertisement
---
---
If you are looking for a little inflation protection when it comes to your food budget, here are some things to consider: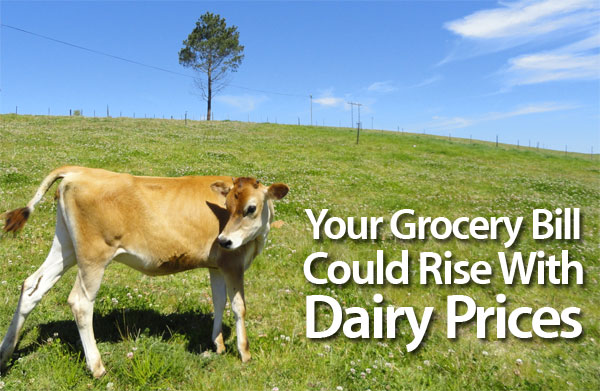 Cut Back Your Dairy Consumption
One of the easiest ways to reduce your dairy costs is to cut back on your consumption. This might be easier said than done for some people, though. I enjoy dairy, so it's hard for me to cut back. Consider less expensive alternatives, and do your best to find ways to reduce what you are spending on dairy. If this isn't an option, though, you do have other choices.
Reduce Other Grocery Costs
Another option is to make up for it by reducing other grocery costs. According to the Marketwatch article, you probably won't pay more than $1 per item extra as a result of higher dairy costs. If this is the case, it might be possible to cut back in other areas to keep your grocery costs low. Consider cutting back on treats and junk food. You can also make an effort to find coupons and sales. This can be a way to reduce your grocery costs without cutting your dairy consumption.
Consider Local Sources for Dairy
Even though the average cost for dairy has risen in recent months, I'm not actually paying more for these products. This has a lot to do with the fact that most of my dairy is locally sourced. I get milk straight from the dairy up the road, so increased transport costs and other problems don't affect my milk costs. I also get cheese from the same dairy, and from a local cheese outlet.
While I expect prices to rise eventually on the dairy items I buy locally, the good news is that the price increases generally lag behind national trends. So, I have more time before inflation (at least on dairy products) kicks in.
Pay Attention to Inflation
It's a good idea to pay attention to inflation in other aspects of your budget as well. Prices continue to rise, and your income might not keep pace. It makes sense to track your spending, and make adjustments as necessary. You might need to earn more money (perhaps a side gig) or cut costs in order to avoid becoming a victim of inflation. Whatever you do, though, it helps to stay on top of the situation before your budget is busted. Pay attention and create a plan that works for you and your situation.