On this site we've reviewed quite a few online banks from Ally to ING Direct to Perkstreet. In general we've talked about how people view their customer service, what kind of rates they have, the histories of the companies and so forth.
One bank that I missed that has apparently had an online bank for quite a while now is also the company that I had one of my very first credit cards through, American Express.   I'm not sure how I missed this offering, but it recently came to my attention.  They're currently one of the higher (albeit low) rates right now, so I thought I'd do a quick review of American Express Personal Savings.
Continues after Advertisement
---
---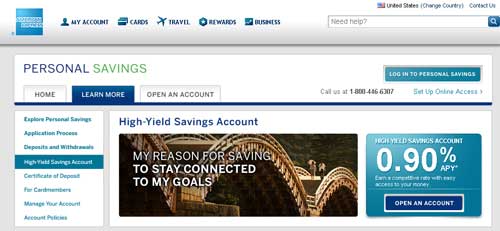 History Of American Express Bank
American Express has been around for just over 150 years, so they're no Johnny come lately. From Wikipedia:
American Express Company (NYSE: AXP) or AmEx, is an American multinational financial services corporation headquartered in Three World Financial Center, Manhattan, New York City, New York, United States. Founded in 1850, it is one of the 30 components of the Dow Jones Industrial Average. The company is best known for its credit card, charge card, and traveler's cheque businesses. Amex cards account for approximately 24% of the total dollar volume of credit card transactions in the US, the highest of any card issuer.

BusinessWeek and Interbrand ranked American Express as the 22nd most valuable brand in the world, estimating the brand to be worth US$14.97 billion. Fortune listed Amex as one of the top 20 Most Admired Companies in the World.
Amex hasn't always had a savings account and for much of their 150+ years they have had more of a focus on the credit card and charge card markets  (can you say "more profitable"?), but only after our recent financial downturn did they speed up customer acquisition for their deposit accounts.   Seems like a lot of companies would like to have that consumer cash on hand nowadays.
Amex Savings Are FDIC Insured
American Express is a FDIC insured bank so you don't ever have to worry about losing your money, as long as you don't have more than $250,000 per depositor.  In other words, each spouse would be covered in separate accounts for up to $250,000.
American Express is a widely known and highly stable brand, however, so I don't think you have to worry about them going out of business anytime in the near future.  You're good to go.
American Express Savings Account Benefits
An American Express savings account has a lot of features and benefits, similar to a lot of other online banks. Among them:
24/7 Account Access by phone or web.
No fees to open or maintain a High-Yield Savings account.
$1 to open an account.
Set up automatic transfers from a linked checking/savings account.
Rated 5-star Safe & Sound by Bankrate.com
FDIC-insured to $250,000 per depositor
Opening An Account With American Express
American Express has made opening a savings account quick and easy 4 step process, very streamlined and painless.

Gather your information: Bring together your Social Security number, address, email, date of birth and existing bank account information if funding your account electronically.
Submit your application: Choose what type of account you want (Savings/CD) and apply online or by phone anytime at 1-800-446-6307.
Receive confirmation: If your account is approved you'll receive an e-mail confirming that your application is approved. You will also receive a Personal Savings welcome kit in the mail.
Fund your account: Then you just need to fund your account and start earning interest!
There you go.   As mentioned you should get an email confirming that your account is approved and that you're ready to go.  Look out for that welcome kit in the mail!
Conclusion
American Express is one of the most recognizable brands in the world.  Most people know about them because of their credit and charge cards (that's where I first came upon them), but they've also quickly become a good solid option when it comes to online savings accounts.
You're not going to find many banks nowadays with great rates – or anything really above 1% – but with that said American Express savings is currently near the top of the bank rates hill.
Add to that the fact that their FDIC insured, and are rated as a 5 star safe and sound bank by bankrate.com, and I think you've got a solid savings account option that I would recommend checking out. You can sign up for an account or get details through the links below.
Open Your American Express Personal Savings Account