There's been quite a bit of buzz lately about a new investing and brokerage account through a website called Betterment.com.
Continues after Advertisement
---
---
A lot of personal finance blogs are writing about it because it takes a topic that can be confusing for a lot of people, and makes it accessible. 
They take the investing process and make it as simple as 1-2-3.  Sign up, fund and invest.
Ok, let's back up for just a moment. 
What is Betterment?
At it's very core it's just another of the online brokerages that we hear about all the time on this site and others.  They allow you to hold stocks and bonds as investments via ETFs, like an account through Scottrade or ShareBuilder. But it's more than just a brokerage account.  It's also a tool that helps automate the investing process,  to make it simpler for the average Joe. 
You can set up automatic investments every month, and it will also automatically re-allocate your investments for you on a regular basis. In essence it's a set it and forget it investing solution.
I recently signed up for Betterment to give it a run-through, and today I thought I'd do a quick review of Betterment.com.
Betterment History
Betterment.com was founded back in 2008 by Jon Stein.  While it was founded back in 2008, Betterment.com only recently launched at TechCrunch Disrupt 2010 NYC. In December 2010 Betterment.com received $3 Million in a series A financing round from Bessemer Venture Partners (lead) and Anthemis Group.
Betterment LLC is a Registered Investment Advisor with the SEC and they're SIPC insured.  You can be assured of the same protections as you would with a larger financial institution.  Of course since this is an investing account and not a savings account, there is no assurance of not losing your money.
Betterment only launched a few months ago, but because they've got such an innovative concept, it's receiving a ton of buzz.  They've received writeups in The New York Times, CNNMoney, Investment News, Mint.com and more.
Recognition & Awards
While Betterment has only been around since the end of last year, they've already started garnering a ton of attention, and a few awards for their trouble.
TechCrunch Disrupt NYC 2010 "Battlefield Finalist"
TechCrunch Disrupt NYC 2010 "Best NYC Startup"
FinovateFall 2010 "Best of Show"
So while they have just launched folks are already starting to recognize them and their concept as a powerful one.
Simple Investing? How Simple Can It Get?
So what's the idea behind Betterment?   Their basic idea is this – so many folks in this day and age are either too busy to get too involved or too intimidated by the complexity of investing that they just don't do anything at all.  Betterment looks to take all of that away by just making investing simple, and removing a lot of un-necessary choices. Here's a video run-down of how Betterment works:
So when you sign up for an investment account with Betterment, the process will be as simple as choosing:
How much to invest.
How much of your investment you want in equities (Stock Market).
How much you want in Treasury bonds (TIPs).
You can also set up automatic investments on a regular basis if you want to.
Within stocks and bonds, they divide up your holdings into a variety of ETFs so that you are diversified.   Here is what you get on the stocks side:
For Treasury bonds, you get
So the stocks and bonds you get will give you a nice diversified portfolio that will for the most part track index performance across various sectors.
Forecasting And Visualization Tools
One of the cool things in the Betterment account are the allocation and visualization tools that they have available. The tools make it easy for the average investor to see what kind of returns they might see (given historical returns)  if they invest with a 5, 10, 20 or even 30 year time horizon.   Once you come up with an allocation and time horizon that you are comfortable with, just hit the button to change your allocation, and within a few days your changes are made!  Check out their online demo here: (demo).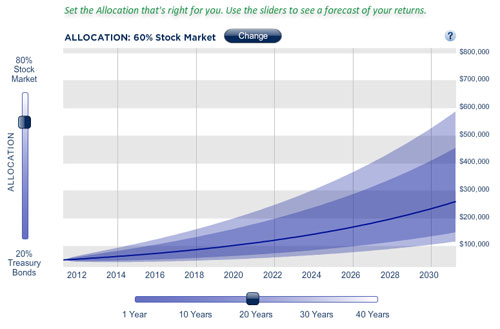 Let's say that you have about $50,000 invested as the demo account does.   If you have 80% invested in stocks and 20% in bonds, given a 20 year time horizon it will show you a forecasted range of returns that you could expect to see – anywhere from $100,000-$600,000.  Change the percentages and time-line and it can drastically affect your results.  It's interesting to look at just how drastically things can changed based on the decisions you make.
So if you decide you want to change your allocation either to include more stocks or bonds, you just move the slider up or down, and then hit the "change" button, and Betterment will update your account holdings and purchasing decisions going forward.
Portfolio Out Of Whack? Automatic Re-allocation To The Rescue
One thing that often happens with traditional retirement accounts is that the account owner neglects to ever update his or her portfolio on a regular basis, and in the end their allocations get all out of whack.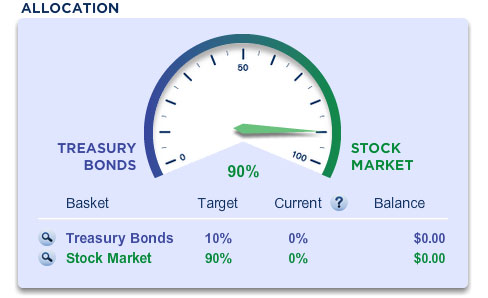 One of the nice things about an account with Betterment is that you never have to re-allocate your money. It will automatically re-balance your portfolio for you every three months, or if your allocations ever drift more than 5% before that.  Without re-balancing your account can easily shift over time to have an allocation that is heavier on stocks or bonds than you want it to be. If you start out at say 90/10 stocks to bonds, if you don't reallocate over time you could one day find that your account has an allocation more like 80/20 or 85/15.
This is one of those things that most investors neglect to do on a regular basis, so it's nice to have that part of the account be automatic.
What Does It Cost?
What kind of fees can you expect to pay for using Betterment   Well first off, there are no minimums to invest, and there are no fees for trades.   The only fee Betterment charges is a pro-rated yearly fee that is in a range of 0.15% to 0.35%, depending on your account balance. For most beginning investors it will come out to .35% annually.
For starter accounts with a minimum balance of $0 and $100/month minimum deposit, you'll have a .35% annual fee.  Minimum balance of $10,000?   You'll get next day transfers and a  .25% annual fee.  Minimum balance of $100,000?   You'll get next day transfers and custom portfolio options along with a low .15% annual fee.
For an account where you'll be having someone manage your investments for you, re-allocating their portfolio every so often, and not having to worry about ever paying any other fees or charges for making trades – these are some pretty reasonable fees.  It makes the account a winner.   I think it definitely makes sense for most people.
I've Signed Up For Betterment
While I did have some reservations about the site back when they launched,  I went ahead and signed up for Betterment.com.  I'm gonna try it out for a while. One of the great things about the account is that it's more like a traditional bank account in that getting your money in and out of the account is as simple as withdrawing it. No fees associated with making trades. The only risk you take is the same risk that any investment in equities has.   Add to that they've got a account signup bonus now as well, and you've got nothing to lose. So why not try it out?
Personally I just really love the idea of making investing that much more simple as it will make it more accessible for a ton of other folks.  So we'll see how it goes – I'll probably report back in a while to give a rundown of what I think of the site after I've actually been investing – and playing with their tools for a couple of months.
Get a bonus when you open your Betterment account. Click here.