Over the past couple of years we've seen the rates on online savings accounts drop like a rock.  Most online savings accounts are currently hovering around 1-1.3% in interest earned on your money.  In other words it isn't exactly an amazing return on your money.
In addition to the online savings accounts souring,  rewards credit cards have been seeing their accounts drop benefits, add annual fees and in general become less of a good deal.   I know my rewards credit card terms have changed for the worse.
Continues after Advertisement
---
---
It isn't a great environment if you're actually trying to get something extra for your money.   Until now.
Perkstreet Financial has burst onto the scene with a new concept that has a lot of folks pretty excited.  It's a rewards checking account!  You get to earn money on the money that you spend from your account – up to 2%!
Perkstreet Financial Free Rewards Checking
For the most part online and bricks and mortar checking accounts haven't been anything to get excited about. You get an account, and you use it to pay your bills. While you may not be paying any account fees, you're also not getting much out of the account other than a place to put your money before you send it out to all your regular monthly bills and savings goals.  Now Perkstreet is turning things around by offering people cash back just for spending their own money.   How much money you get back really depends on a couple of factors.
How much you spend: The more you spend, the more you get back!
How much you keep in your account:  If you keep $5000 or more in your account at all times, you'll be able to earn 2% cash back on all your purchases.  While that might not sound like that much at first glance, if you consider it, it really does end up being quite a bit of money. For example, if you spend $2500 in a normal month on all your bills, you could start paying them via your Perkstreet Visa, and get back $50 in cash if you have a $5000 balance.  Even without a high balance you'd make $25 back!  That's $300-600 back in a year!
With cash back rewards that good on a checking account, what it really means is that my credit card account is becoming obsolete.  I pay cash for everything anyway, so why would I keep the credit card account, and it's associated risks when I can get the same benefits from my checking account?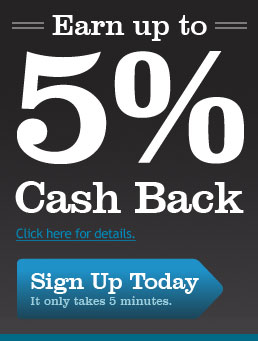 Benefits Of The Perkstreet Checking Account
The account at Perkstreet really is chocked full of benefits. Some of them include:

No Cap On the Amount of Perks You Can Earn
Nation's Largest Surcharge-Free ATM Network
No Minimum Balance Requirement
No Monthly Fees When You Use Your Account
Sign-Up In Just 5 Minutes
Free Online Banking and Bill Pay
No Need to Worry, Deposits are FDIC Insured Up to $250,000 and Protected from Fraud by the Visa Zero Liability Policy
PerkStreet Financial? Visa® Debit Card gives you 2% cash back
You can get 5% cash back on certain categories and certain merchants!
Super fast live phone service, 24/7
SignUp For Perkstreet In 5 Minutes
Getting a new account at Perkstreet is quick process that should only take you 5 minutes of your time, according to their site.  You select what type of rewards you want, give identification, review your information, and fund the account via credit or debit card.
What information will you need when you open your account?:
Social Security Number
Personal information
Driver's license
Debit or credit card to make the initial $25 deposit.
Some have stated that when they opened their account they didn't get a hard credit pull on their credit report.  Others have stated that when they opened a "plus" account – with overdraft protection, they DID see a hard credit pull.  I'm not sure if either of these is true, so be forewarned.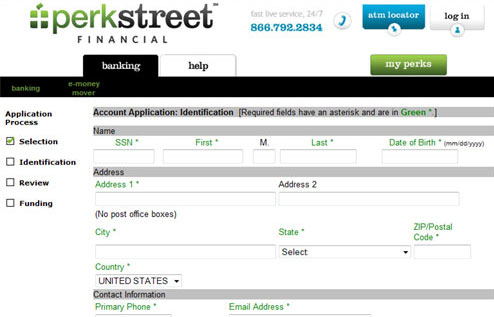 Conclusion
When I heard about the Perkstreet Rewards Checking account, I was intrigued. It was a pretty new type of account offering, not one you're seeing yet at many other banks.  Time will tell if it is successful, but if it is, you can be assured that you'll see these account types popping up all over.
Some of the things I like the most about the rewards checking at Perkstreet include the large number of free ATMs you can use when you have the account (over 37,000 of them in the STARsf® surcharge-free network), no monthly fees as long as you use the account, free bill pay, and the protection of FDIC insurance of up to $250,000 on your account. So you don't have to worry about your money being safe.
Best of all, the account will pay you to spend your own money, without having to use a credit card!
One of the few downsides I can see is that you have to keep a relatively high $5000 balance to earn the highest cash back rate (2%), but even at the lower rate, it's still a pretty good deal.
If you want a rewards account, but don't like dancing with the credit card devils, Perkstreet is a great option to consider.  Not only will you be paying cash for the things you buy, but you'll be earning money back on all your purchases!
Want to sign up now?  Check it out at the link below:
Sign Up For Perkstreet Financial Rewards Checking