In Baby Step 5 Ramsey talked about your options for saving for your children's college education.
While I think it's a good idea to get your kids involved in helping to pay for their own education, I'm not against giving them some help as well.
I think  you need to do your best to go to school and graduate debt free if you can – or with minimal debt.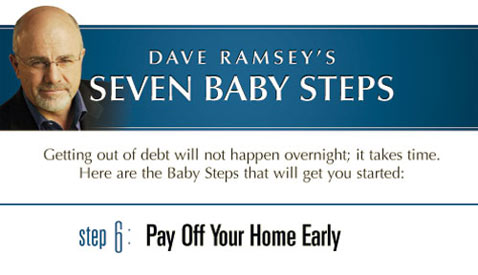 Baby Step 6: Paying Off Your Home Early
In step 6 Dave suggests that you pay extra on your mortgage, and payoff your mortgage faster.
When we talk about mortgages Dave talks about how he thinks you should have no more than a 15 year fixed rate mortgage, and that your payments should be no larger than 25% of your monthly income.  For many people that doesn't seem doable because of the  housing markets they live in, or because of the standards they've set for the home they want to live in.  Sometimes people just aim too high!  In any event, in most cases it is something that most people can do – take on a 15 year loan for less than 25% of their income.
I will be the first to admit that we've taken on a 30 year mortgage at our house because when we bought the house we weren't as serious about our finances, and we were over the 25% of our income as well.  At the same time we have no other debts to speak of, and since we bought the home our income has gone up – to the point where it is no longer over that 25% number.  In any event, we're also paying extra on the mortgage now to help pay it off early.
So what do you get by paying off the mortgage early?  You'll be giving yourself peace of mind in a tough economic climate knowing that your house is paid off.   If the worst happens and you lose a job or have a medical emergency, you'll be able to get by on a whole lot less.   After all, the house is paid for!
Why You Should Pay Off The House Early
If you read personal finance blogs, there are a lot of arguments in favor and against paying off your home early.  Which is the better for people financially? To pay off their mortgage early, or to save and invest the money for the long term?
First, here are some points in favor of paying off the mortgage early:
Save Money On Interest: If you pay off your mortgage off early, you'll be saving thousands of dollars in interest.  Think about this:  If you have a $200,000 dollar mortgage for 30 years, with an interest rate of 6%, at the end you'll have paid $250,000 in interest.  Change that to a 15 year mortgage and only $115,000 in interest will be paid.   If you can pay down the mortgage even faster than 15 years, you'll be saving even more because you'll be paying less interest.
Mitigate Your Risk:  One of the most attractive things about paying off the mortgage early to me is the fact that it helps to minimize the amount of risk that you have in your life.  With a paid off house you don't have to worry about mortgage payments.  If you can scrape enough together to pay for food, transportation, clothing and utilities, you should be able to get by. Without a mortgage that number is significantly lower.   Trying to invest the money and come out ahead may work for some, but because investing is inherently risky (we've seen that in the last year or two), it could mean adding risk to your life as well.
Financial And Emotional Peace + Less Stress: With no mortgage I know that we would be much closer to true financial and emotional peace just because we wouldn't have the debt weighing on our shoulders – and the risk of losing our home to a job loss or medical issue are greatly reduced.  So less  debts and obligations mean less stress in our household.  Add to that the fact that you'll have less stress when having to deal with a job change, or wanting to become a one income family so one spouse can stay home with the children.   When you have a paid for house you'll only need to cover the minimum of life's essentials – and you'll have walkaway power – power to walk away from any job you don't love or enjoy because you only have minimal expenses!
With A Paid Off Mortgage You Get A Huge Raise!:  When your monthly debt obligation drops so significantly because you've paid off your house, it means that your income will go up significantly. Can you imagine how much money you could save, invest and give if you didn't have a mortgage?
Being debt free brings freedom, and sometimes that's better than a few extra dollars made through investments.
Arguments For Investing Instead Of Paying Extra On House
There are some pretty good arguments that others have made against making extra payments on a house.  Here are the few that made the most sense to me:
Keeping Your Holdings Liquid = Flexibility:  When you have your money in investments as opposed to prepaying on a house, the money is going to be more accessible if you absolutely need to access it.  When your money is being invested in a house, you can't exactly just cash it out – you still need a place to live.   So many would suggest that investing your money will give you more flexibility in the case you need to access your money in an emergency.
Returns On Investing Will Be Higher:  If the money you expect to make in the stock market is more than the amount you'll save by pre-paying your mortgage, than it may be a better bet to invest your money.
Inflation Is Your Friend?: Inflation goes up by a rate of 3-4% every year, so by not prepaying your mortgage you are in essence paying less money for a house that is increasing in value every year.  The amount you pay in 2040 to live in your house is the same as you're paying in 2010.   You'll be getting more for your money!
No Asset Diversification:  By only investing in your house, some argue that you're not properly diversifying your holdings – you're only investing in one asset type and class.  Better to invest and diversify your holdings.
The arguments for investing vs. paying off your mortgage early really do make a good case, although I will admit some of them hold less merit for me than others.
What We're Doing
We've considered both sides of the argument at our house, and in the end the thought of having a paid off house  – and no mortgage debt – just appealed to us more.  We love the idea of having the freedom and the walkaway power that goes along with having a paid off mortgage.
At the same time, we still want to invest.  So what we're doing at our house is a little of both. We're both investing for our future, and we're pre-paying our mortgage to the tune of several payments per year.  We may not pay off the house as fast this way, but we'll still be paying it off years early.
What do you think about paying off the house early?  Do you think it's a good idea or a bad idea? Which path are you choosing if you're at that point? Tell us in the comments!