Many of us were raised to believe that buying a home is the key to a stable financial future. It is true that your home is likely to be your biggest purchase, but it may not do to rely too heavily on your home's equity for retirement.
The theory is nice: You buy a house, pay it off over 30 years, and when it's time to retire you have this huge asset, which has appreciated in value, ready to be tapped. Before you get excited about the prospect, though, it's a good idea to take a step back and evaluate whether or not your home will really be the asset you think.
Continues after Advertisement
---
---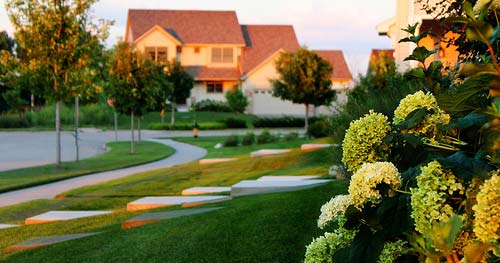 Will It Appreciate As Much As You Think?
The first thing you have to consider is whether or not your home will appreciate as much as you think. You will need to consider the costs of home ownership, including the interest that you pay, as well as maintenance and upkeep. You can expect to offset some of the costs of interest and property taxes with the help of tax breaks, but you can't expect those to last forever. You will have to consider the effects of inflation as well.
The other issue, of course, is whether or not a market crash happens just before you retire. Many people who had depended on their homes for retirement received a rather unpleasant surprise after the recent real estate bubble burst and home values plummeted. Suddenly, the expected value disappeared.
While your home can be an asset to draw on later, you might not want to rely too heavily on the expected equity in your home to fund your retirement. Like any other asset that we expect to appreciate in value, there is the risk of loss, and you can't predict what the market will do. A little diversity is usually in order.
Tapping Your Home Equity
One of the reasons that many buy a home is for the ability to tap the equity later. However, tapping your home's equity comes with its own costs. You will have to pay even more in interest, since you will have to borrow against the equity in your home to access it. If you are retired, you may have difficulty getting a traditional home equity loan, since you will need income. You might have to use a reverse mortgage. While you won't have to repay the mortgage until the house is sold, or you stop living in the house, many reverse mortgages have steep fees and interest rates, and can erode the amount you receive.
Of course, you can sell your home to downsize. If you have paid off your mortgage, you can sell, and then use the resulting capital to buy a smaller home, or invest the capital for income. (Or, if you have enough left over, you could buy a smaller home and invest.)
Bottom Line
If all goes to plan, it is quite possible that your home can be a place for you to live, as well as provide you with an asset to use to your advantage during retirement. However, it is important to understand that you might not end up with what you expect, and to consider making any real estate asset a part of your larger retirement portfolio, adding diversity.