When it comes to the debit card vs. credit card vs. cash debate, there often isn't a clear winner. We all have our preferences. However, for maximum security when you travel, it's often a good idea to bring your credit card along. (Yes, debit cards claim to have the same protections, but some issuers have different time limits that need to be met in order to reduce your liability.)
If you plan properly, your credit card can help you protect your money when it comes to lost or stolen wallets. Additionally, you can rack up the rewards points with your credit card. Before you go, though, here are some things to keep in mind:
Continues after Advertisement
---
---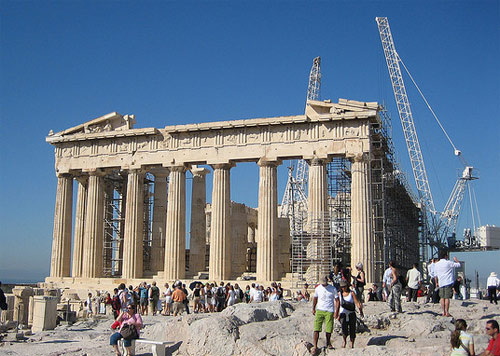 Make Sure You Have the Cash Available to Pay Off the Balance
The first thing you need to do is realize that using a credit card for your vacation is not an excuse for reckless spending. While it's true that some transactions are better suited for credit cards, it doesn't mean that you should just pile on the charges. Save up for your vacation, and keep the cash in a high-yield account. When you get back, you can pay off the balance. You avoid interest — and debt — while still enjoying the advantages of earning reward points and other solid advantages. But it only works if you pay off the balance as quickly as possible. Otherwise, the interest you pay more than offsets your rewards, and your summer vacation becomes even more expensive.
Let Your Issuer Know Your Plans
When I went on spring break with my son, we took the credit card, and left the debit card at home. Our adventure also included some time in Las Vegas. From the standpoint of the credit card issuer, it appeared that someone had taken our credit card, and then used it for a Vegas vacation. The issuer called our home phone number (the number on the account), and talked to my husband about the charges. It was actually rather comforting to know that the issuer was staying on top of the situation. But it also illustrated the point that you should let your issuer know what is going on. If you plan to cross state lines and make several purchases, and especially if you plan to take your credit card abroad, you should tell your credit issuer what is going on. I was lucky that my issuer chose to call before denying purchases. If your issuer denies charges and asks questions later, though, it can make for a disappointing vacation.
Keep the Account Information in a Separate Place
As you travel, you want to make sure that you keep the account information in a separate place. Write down the account number, and the customer service number of the credit card issuer, and then lock it up. Keep it in the room safe at your hotel. Or, you can leave it with someone you trust. My husband doesn't like travel, so he often stays home (and does fun things with his friends) when my son and I head out. As a result, all I need to do is make a phone call to him, and he can get the information from a safe place at home. You want that information separate from your credit card, and accessible, so that you can use it quickly in the event that your card is lost or stolen.
Do you have other tips for using your credit card while you travel?