A while back we wrote several posts about how millions of homeowners (more than 11 million of them) were finding themselves in a situation where the values of their homes had dropped, and they found themselves underwater in their homes – with negative equity. In other words, their homes were now worth less than they paid for them. We asked if it was morally ok to stop paying the mortgage on an underwater home, in addition to exploring the tax implications of defaulting on your underwater home.
My wife and I unfortunately bought at the height of the market as well – back in 2006 – and if we hadn't put down 20% on our new home, we'd be underwater now as well.  We've lost over $40,000 of equity in our home.    While that stinks, at least we weren't buying our home as an investment, and we weren't banking on it going up.  We were simply buying our home as a place to live.
Continues after Advertisement
---
---
Since I wrote those posts, what has been going on in the market?  Have the number of underwater homes improved?
Number Of Underwater Homes Declines
The 3rd quarter of 2010 saw the number of homeowners were were underwater in their mortgages fall.   But what was the reason?
The number of U.S. homeowners who owe more on their mortgages than their homes are worth fell in the third quarter, but the decline stemmed from banks getting more aggressive on foreclosures, not from home values going up, according to trade-industry data released Monday.

The total of so-called underwater mortgages fell to 10.8 million at the end of September, down from a peak of 11.3 million at the beginning of the year, according to CoreLogic, a real-estate data firm. The latest total accounts for nearly 22.5% of U.S. homeowners with a mortgage.
So the number of underwater mortgages fell from11.3 million earlier this year to 10.8 million – or 22.5% of homeowners.  But the reason wasn't necessarily a good one. Home values have not gone up.  Instead, it's because the banks have become more aggressive in moving forward on foreclosures.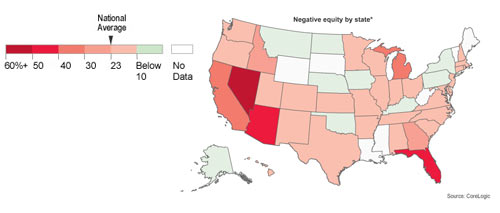 Foreclosures Are Increasing
It's amazing to me that this many people have gotten themselves into these types of situations where they end up getting foreclosed on.  If you were able to afford the house when you bought it, shouldn't you still be able to afford it now that the value has gone down?
Or is the problem more of one where people ended up buying homes they couldn't afford at inflated prices – because the prices were being artificially propped up by the homebuyer tax credit?
The drop in underwater mortgages hardly reflects a rebound in the housing sector because home prices didn't rise in the third quarter. Rather, the number of underwater homes declined as banks took back those homes and wiped out the debt through foreclosure.

Home prices, meanwhile, appear to be declining again after tax credits that spurred sales produced modest price gains during the first half of the year. Home values could drop by an estimated $1.7 trillion this year, a 40% increase from a year ago, according to Zillow.com, a real-estate website. Most of the decline is expected in the second half of the year.

The figures underscore how fragile the housing market remains. As home prices fall, more borrowers will sink underwater. Another 5% decline in prices would leave an additional 2.4 million homeowners underwater, according to CoreLogic.
The Real Estate Market Is In Trouble
So it really seems like our housing market is on the verge of catastrophe.   Things are pretty bad.
The underwater problem could also weigh on housing markets because homeowners without equity are less likely to act like traditional homeowners and spend money on their homes. While the homeownership rate during the third quarter fell to 66.9%, according to U.S. Census Bureau data, the effective homeownership rate, which excludes underwater homeowners, is just 56.6%, according to CoreLogic.

That problem is particularly acute in boom-to-bust markets such as Las Vegas. The official homeownership rate stood at 58.6%, but after excluding borrowers with negative equity, the rate fell to just 14.7% in August 2009, according to the New York Fed study.

While the homeownership rate has fallen back to 1999 levels, homeowners' equity as a share of household real estate is lower by one third and is below 40% for the first time since World War II.
Some markets, like Las Vegas, are a lot worse than other markets, particularly because they had such huge housing booms a few years back, with people buying homes, getting sub-prime financing or no down payment loans.  Now that they're finding themselves underwater, a lot of those folks are deciding that staying in those homes just isn't worth it.
What do you think of the crisis that we're having in real estate?  Do you think it will continue getting worse over the next couple of years, and that we'll see a return of stricter bank lending standards?  Will more and more people begin defaulting and being foreclosed on?  What are you thoughts?