The financial crisis, and the recession, prompted the return of of layaway. For years, many stores stopped offering the layaway option; it was pointless, since so many of them had co-branded credit cards and were more than willing to encourage people to use those to make purchases. (Not to mention the storage space multiple items on layaway take up.) However, the financial crisis served as a wake up call for many. Instead of just charging Christmas gifts, they began looking for another option.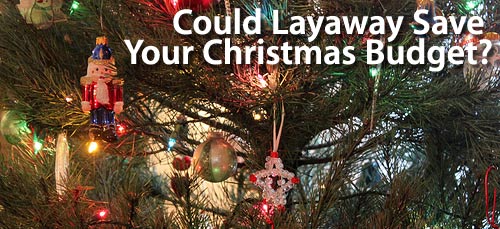 Continues after Advertisement
---
---
Layaway
A layaway program allows you to reserve an item for future purchase. You make a payment up front, and then make period payments until the item is paid off, and you can take it home. With many layaway programs, you are charged no interest, so you don't have have to worry about borrowing the money. Some layaway programs are designed so that you pay each week, while others have you set up a certain number of payments within a certain timeframe, such as four payments over the course of two months.
The idea is that you can get an item at a good price (although some stores won't let you reserve certain sale items on layaway), and pay for it gradually, without the need to use credit and pay interest. You don't need to come up with all of the money up front, so it makes it easier to pay for big ticket items, since you can do it over time.
Using Layaway to Help Your Holiday Budget
If you want to reduce the strain on your Christmas budget, it is a good idea to begin planning now. You know that your holiday spending will add significantly to your budget. Indeed, many people find that their December expenses can balloon to the point where the entire budget for that month can explode.To avoid this, start now to plan. Whether you put together a Black Friday strategy now, or decide to set aside a certain amount of money each week from now until December to cover your costs, planning now can save you money in the long run.
Layaway can be part of your plan. Because it's a good way to spread out the cost of a higher-cost item, layaway can be ideal as a part of your plans. Find out which items on your list can be set aside, and focus on putting those on layaway, and then paying them off over time. Then, your available funds can toward items that can't be reserved for the future.
When using layaway, though, you need to be careful. Make sure you understand all of the terms and conditions. Know the payment process, and understand the penalties if you miss a payment or are late. You should also understand that some stores will charge a "restocking fee" if you change your mind, and decide you don't want an item after all. Additionally, while most stores don't charge fees or interest for layaway, there are some stores that might charge a fee for this service. Make sure you are clear about the procedure, and all of the charges, before you agree to a layaway.
If done right, a layaway can be a great part of your Christmas budget planning. You don't have to break your budget, or go into debt, to complete your holiday shopping.