One thing that hasn't received very much notice lately I think is the fact that at the end of 2010, the 2001 Bush tax cuts will be expiring for all taxpayers. If you remember, the tax cuts were across the board for all taxpayers, meaning if they aren't renewed, all of us who pay taxes will be seeing an increase in our taxes next year.
Thankfully for many of us Obama has declared that he wants to renew the tax cuts for all taxpayers making less than $250,000 a year.
Obama wants tax breaks proposed by President George W. Bush to expire this year. His budget would eliminate tax breaks on those making more than $250,000 a year, a move almost certain to be opposed by Republicans and perhaps some Democrats as the economy crawls out of the recession.

"We extend middle-class tax cuts in this budget," Obama said Monday at the White House, but "we will not continue costly tax cuts for oil companies, investment fund managers, and those making over $250,000 a year. We just can't afford it."
While that's all fine and good, the tax cuts haven't been extended yet, and some are wondering if in the end they actually will be.
To prepare you for either scenario, here's a graphic from springfieldnewssun.com showing what everyone's tax rates will be if all tax cuts expire, along with if only the tax cuts for those making less than $250,000 (joint) are extended.  Personally, I hope they're extended.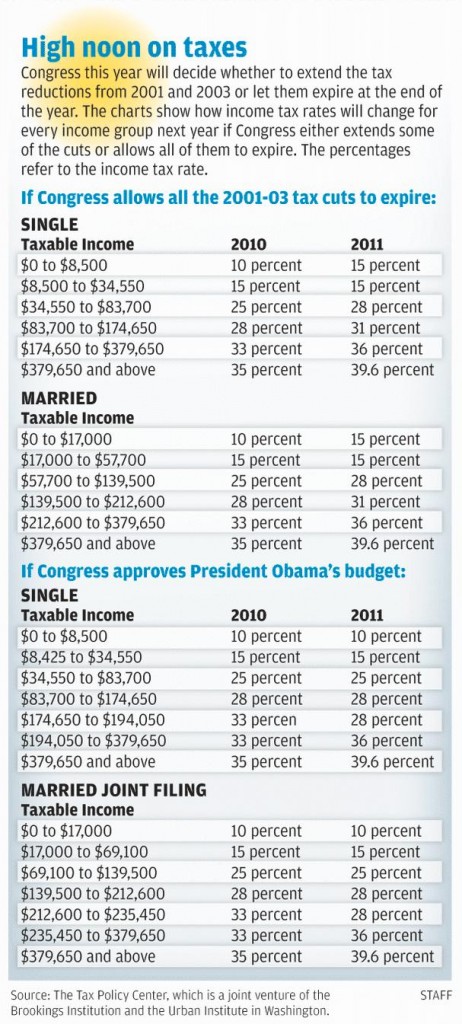 What Effect Will Tax Increases Have?
[Read more…] about Bush Tax Cuts Set To Expire In 2011. Will You Be Paying More?