For my first real post on this personal finance blog I thought it would be appropriate to talk about one of the people who have influenced my financial life the most, Dave Ramsey.
For those of you who don't know, Dave Ramsey is a personal finance guru who has a daily radio and TV show, in addition to personal finance seminar called Financial Peace University.
Continues after Advertisement
---
---
Dave Ramsey is extremely popular, and most of his radio and TV shows focus on helping people who have gotten themselves deep into debt, and need help in finding a way out.    One of the biggest ways they end up getting out of debt is by following his 7 Baby Steps plan.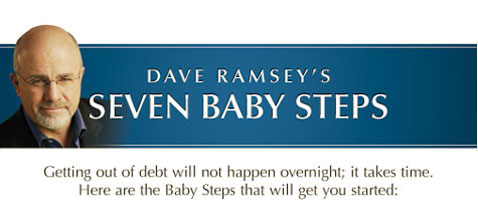 Dave Ramsey's 7 Baby Steps
Here's a quick look at Dave Ramsey's 7 Baby Steps plan for getting out of debt.
When you write it down it seems like it would be so simple to get out of debt and start building wealth, but Ramsey is the first to tell you that it takes a lot of hard work and "gazelle intensity" in order to find your way out of the depths of debt.
I know personally that his plan can work as my wife and I have used it to get out of debt.  Is it a perfect plan for absolutely every situation?  Maybe not.  But it does work for a majority of those who try it and stick to it.
Over the coming days and weeks I'm going to do a series of posts talking about Dave Ramsey's 7 Baby Steps, one by one.  I hope that in talking about it I can give some hope to some of you out there who are looking for a way out.
What do you think of the 7 baby steps?   Have you used the plan?  Would you recommend it to others?  Tell me what you think in the comments and welcome!