In my last post in the 7 Baby Steps series, we looked at Baby Step 1, saving up an emergency fund of $1000.
You save up that baby emergency fund in order to insure yourself against the risk of life's little emergencies that have a way of popping up at the least opportune time.   If you don't save up that money as an insurance policy, you can be assured that your plan to get out of debt will be set back many times over by many little "emergencies".
If you have an emergency fund saved, no new debt is created, and you just take the time to re-stock that emergency fund in case of further expenses.
Today we will look at Baby Step 2, paying off all debt using the debt snowball.
Pay Off Your Debt Using The Debt Snowball
Now that you've got your $1000 emergency fund saved,  it's time to get intense about paying off all your debt.  Dave Ramsey likes to call this getting "gazelle intense", in reference to the bursts of speed and intensity a gazelle will use in order to get away from a cheetah (or in our case, debt).
For many people this step is the longest in your 7 baby steps.
If you've  built up a lot of debt over the years in the form of student loans, auto loans, credit card debt and other things, it probably took you a long time to get so far in the hole, and it will take quite a while to dig your way back out.  But you CAN get back out!
If you're not so far in the hole, getting out of debt can happen a lot quicker, and you can get on to the next steps of building up a larger emergency fund, paying off your home early, building wealth and giving more.
If you've gotten this far and you haven't done a budget yet, now would be the time to get started.
Figure out where you are in regards to your income, expenses and your debt obligations.  Do a zero based budget and make sure that every dollar is accounted for – because every extra dollar is now going to be going to debt reduction.
Once you've got all of your income, expenses and debt listed, follow these steps to get rid of your non-mortgage debt. (Mortgage debt is paid off separately in another baby step, so exclude it for now)
The Debt Snowball
Here is a rundown of the debt snowball plan.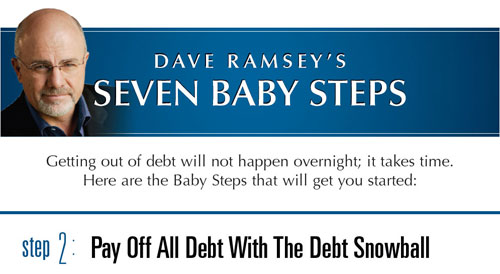 Put all your debts in order from the smallest balance to the largest balance.
After you have paid for food, clothing, transportation and a roof over your head (the necessities), pay the minimum payments on all of your debts.
Put any extra money left over towards paying off the smallest debt first.
Pay off your smallest debt, and then "snowball" the money you were paying on that debt over to the next largest debt.
Continue paying off the next largest debt, and when that one is complete, roll it all over to the next largest debt until you are completed.
That's not too hard, right?  Just pay off your debts from smallest to largest until they are all paid off!
[Read more…] about Dave Ramsey's 7 Baby Steps: Step 2 – Pay Off All Debt Using The Debt Snowball