President Obama and lawmakers are in discussions right now, trying to come to an agreement about what to do about the debt ceiling. If the debt ceiling isn't raised, the United States begins defaulting on its debt.
Of course, we won't default on it all at once, and there are ways that the debt could, perhaps, be restructured. As August 2, the date that has been designated as the point at which we begin defaulting, approaches, many wonder what could happen if the U.S. cannot meet its obligations.
Continues after Advertisement
---
---
Should The U.S. Declare Bankruptcy?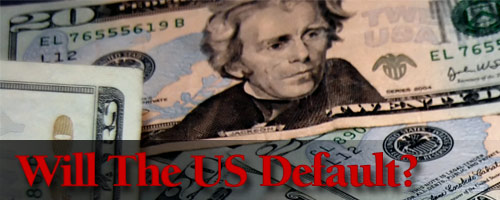 Some think that the best course of action is to just announce that we're bankrupt, default on everything, and start over — hopefully with better money habits as a nation going forward. Others, though, point out that such a course of action would result in difficulties for us getting the revenue to start over. Borrowing at least some of our capital has been a reality since before the U.S. was a country. Our Founders didn't pay for the Revolutionary War entirely with money they had in hand; some of the funds were borrowed. Just like businesses rely on borrowing to get immediate capital for immediate needs, and then pay it back, the government operates on a similar principle. If we default now, we would pay a much higher interest rate on future debt. Our credit rating as a nation would tank.
However, just as a person — or an individual — can get in too deep, the U.S. government has done just that; we have spent beyond our means, and the current deficit level is unsustainable. Avoiding a default by raising the debt ceiling is probably necessary right now, to avoid default. Once that is done, though, it's time for America to wake up and realize that the same money habits cannot be followed in the future. Serious, and painful, changes have to be made.
Cutting Spending AND Raising Taxes
No one wants to be the bearer of bad news, least of all politicians. No politician wants to say that spending cuts need to be made, and that taxes will need to be raised. Some would like to think that doing one thing or the other will result in fixing the deficit. Sadly, we're far beyond that point at this juncture.
Someone who is badly in debt, and who is serious about getting out of debt, knows that there is a point at which only so many cuts can be made. The U.S. is probably at this point. The deficit problem is so big that no amount of cutting can fix the problem. We need to figure out our spending priorities as a nation, and make cuts to various budget items that don't fit the priorities.
But we also need to raise revenue. An individual serious about paying down debt will find ways to raise more money, including taking on a distasteful second job. The U.S. is in that position. More money needs to be raised, and that means that taxes need to be raised. Fixing our current debt problem as quickly as possible means combining expense cutting with revenue raising — even if no one wants to acknowledge that with an election year coming up.
If we do manage to get out of this mess, we will have to hope that, as a nation, we have learned a valuable lesson.