We all want to feed our pets the best food possible to keep them happy and healthy. Feeding your dog the highest quality dog food, however, can come with a high price tag. To keep from going over your dog food budget, here are some money saving tips:
Quick Navigation
Continues after Advertisement
---
---
Find Coupons
Does your dog already have a favorite dog food brand that you struggle with finding dog food coupons for? Often their websites or social media will offer discounts. For example, sign up for Pedigree dog food coupons on their website or "like" their Facebook page for printable dog food coupons so that you can receive discounts on the best dog food brand. Many companies, even high end brands, offer traditional dog food coupons in newspaper inserts. If you often buy your dog food at a particular store, sign up for their emails for notification of sales. You can combine your coupons with the sale for the best price possible without sacrificing nutrition.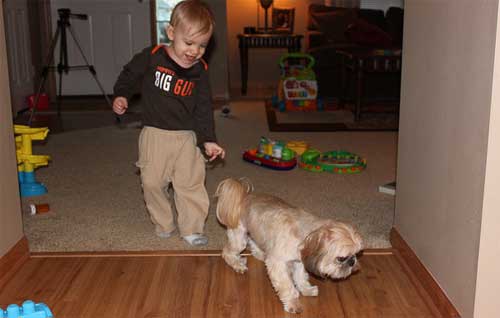 Ask your family and friends if they will trade coupons of your favorite dog food brand for coupons they may need. Many coupon swap groups do this already, but a simple email to your friends or a notice on the work bulletin board can help you save several dollars on your dog's diet. Another source of coupons is eBay–people often sell coupons for a fraction of their face value.
Buy In Bulk
Even if you don't have much storage space, consider buying in bulk. Large bags of dry food and multiple packs of wet food usually have a much lower unit price. Dry food can be portioned into smaller, airtight containers which can be easily found at pet or department stores. Wet food cans can be stored in the back of the pantry or unused closet space. If you have a smaller dog or are concerned a large quantity of dog food might go bad before it's used, ask other dog owners if they would like to split the quantity with you. You still get the lower price and the best quality food.
Visit The Feed Store
If you have never visited your local feed store, they are a great source of the best foods for excellent prices. They carry animal feed for both pets and farm animals and are usually very knowledgeable about nutrition. See if they carry your favorite dog food brand and ask for vendor coupons. Many dog food companies distribute coupons directly to the store to be given to customers.
Higher quality dog food doesn't have to break the bank. By combining coupons and sales and by lowering your cost-per-unit price, you can continue to feed your dog the best.