I feel like I've been reading a lot of stories lately about how one family or another is having a hard time getting by, on incomes that are a bit above the average.   Why are they having such a hard time making ends meet?  There could be any number of reasons – from gross overspending to not keeping a budget of any kind.
One particular story that I read about this week sounded interesting in that the author was talking about how she and her family felt poor despite earning a six figure income. Not only that, she asked if six figures was the "new minimum wage".   I thought that sounded a bit ridiculous,  but wanted to examine why she thought those things.
Continues after Advertisement
---
---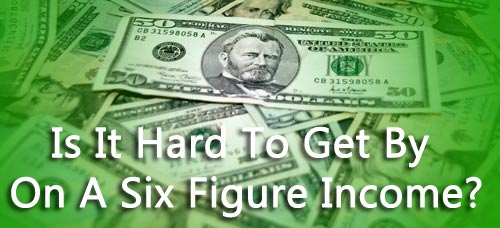 Six Figures Equals The New Minimum Wage?
Laura Cone, a contributor on Yahoo.com, talks about how despite their family income recently topping six figures, they still can't seem to find any money left over every month.
Our family income recently topped $100,000, but we aren't spending as though we make six figures. We don't sip Mai Tai cocktails at resorts or buy pricey tech toys.According to recent data, incomes are rising and consumers have more money to spend. They are also taking on more debt for the first time in three years. Financial experts say the increase in borrowing can be attributed to buying cars and paying for college . We bought a new car this past year so our son could earn money for college delivering pizzas. He may need to borrow money for grad school.

Although I admire people who live on fixed incomes or minimum wage, I have no idea how they do it. When I was younger, I got by on a salary of just $19,000 a year. At that time, I did not have a mortgage or two sons attending college. Back then, the high cost of childcare took a big chunk out of my pitiful paycheck . Still, I never thought we would have trouble living on $100,000.
The author relates how sometimes no matter what income you're at, you just don't feel secure.   She then goes on to talk about what expenses the family has.  Among them expenses are housing, cars, insurance and food:
Our fixed expenses include $350 a month for utilities, $300 for car insurance, $175 for Internet, cable and phone. We owe $1,222.02 a month on our mortgage and $300 on a car loan. We have no other debt. We save 10 percent of our income for retirement. We spend at least $500 a month on gasoline and an astounding $1,000 a month on food. I'd feel rich if I was eating at upscale restaurants or buying gourmet foods, but our food budget just provides the basics for four people.
Among her expenses are a few things that aren't necessarily a necessity.  For example, the internet/cable/phone. I'm sure they could cut back on that expense in if they wanted to.  They also in the article talk about their cars which they have loans on and the car that they bought for their son.  Two more expenses that could at least be cut back – if not cut out all together (make the son buy his own car!).
A commenter on the site pointed out that the author also was spending quite a bit more on food than she was for the same family size – more than twice the amount.
Breaking Down Where Her Income Is Going
Let's make some assumptions about what Laura's family is making, and figure out where their money is going.  For argument's sake, let's assume they're making exactly $100,000.
$100,000 salary – $8333.33/month:
So what fixed expenses do they have every month according to the author?
$2083.33/month federal taxes (assuming 25% 2011  tax rate for married filing joint.)
$554.17/month state taxes (assuming 6.65% NY state tax rate)
$1250/month tuition
$1222.02/month on mortgage
$1000/month food
$833.33/month on retirement
$500/month gasoline
$350/month utilities
$300/month car loan
$250/month extra on mortgage
$175/month internet
So the expenses that she mentions above by themselves come out to about $8517.85/month, more than their income.  That's not even including other incidental expenses they most likely have every month like clothes, doctor visits, etc.  So I'm assuming the things she's telling us aren't 100% correct, our assumptions are a bit off or something.
Looking at the expenses some of them do seem a bit high like food, phone/internet and they bought their kid a car to deliver pizzas – why not have them pay for their own car?
On the other hand this family is also paying more than their mortgage in tuition costs every month, in addition to saving 10% for their retirement and adding extra to their mortgage payment every month.  So it's not exactly like they're in awful shape here.  If push came to shove they could reduce contributions to retirement, and/or ask their child to pay for more of their own education (like mine did) and they'll instantly have well over a thousand dollars more in their monthly cushion.
Just Getting By, Or Doing OK?
The author of the article seems to think they're barely getting by on their six figure income, but if you really look at it they are doing things that other families can only dream of like fully paying for college costs for their child – as well as funding retirement and paying extra on the mortgage.  To me, while they're not getting ahead as fast as some, there are certainly things they can do to improve their situation and save more.
So no, I don't think that six figures is the new minimum wage, and I think it is entirely possible to get by on much less than 100k.   As income goes up, so do expenses in many cases, and lifestyles become inflated. If you look close at where the money is going, and cut back on the un-needed costs, you'll be doing just fine.
What do you think?  Is the author of the linked article just hyperventilating, or are they correct to be worried about not making enough?