When many Americans think about retirement, they are pessimistic — and for good reason. According to a recent COUNTRY Financial Security Index survey, 25 percent of Americans say that they are not saving for retirement at all. If you aren't saving toward your retirement, it's hard to be optimistic about it.
Additionally, there is a great deal of pessimism among people in my own age group (age 30 to 39) about the ability to have a comfortable retirement. In fact, 47 percent of adults in my age group think that it's impossible for a middle-income family to save for a secure retirement.
Continues after Advertisement
---
---
When you look to those 40 and older, 47 percent of them regret that they didn't start saving for retirement earlier, reports COUNTRY.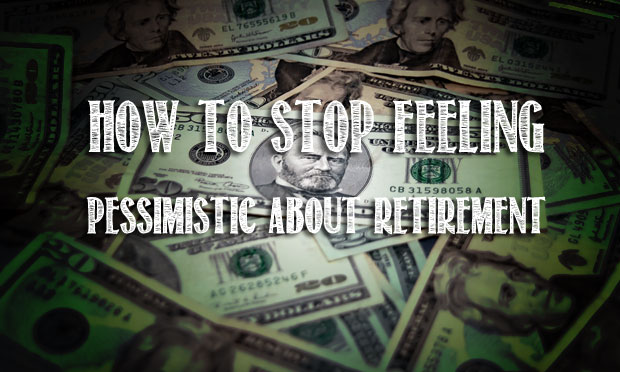 However, you don't have to feel pessimistic about retirement, especially if you are in my age group or younger. Take action now, and you can start to feel better about your chances for a comfortable retirement.
Plan a Retirement Needs Assessment
Much of the time, people are pessimistic because they don't actually know what they will need in retirement. Take the time to sit down and estimate what you will need. That will give you a starting point.
Then, break it down. If you look at the final number, chances are that you will be discouraged by the amount you will have to save. Instead, look at things in terms of monthly income, and in terms of what you can set aside each month for the future. Open an account at a brokerage like Betterment, and you can also get a projection of what your current savings plan will yield you by your retirement age. I began feeling better about my own retirement when I looked at the projection. Compound interest is more powerful than you think, and running a calculation that can help you prepare for your needs can be a great way to move forward.
Start Investing for Retirement RIGHT NOW
Another way to feel better about your situation is to take action. You can start investing for retirement right now. Betterment is a great place to start. If you can put in $100 a month, you can get started with an IRA that will help you invest better for the future. One of the great things about Betterment is that it keeps you on track, and helps you stay in automatically.
But you don't have to start there if you don't want to. You can also start by contributing to your employer's 401(k) plan. Have the money taken out of your paycheck. At the very least, open an account at a discount brokerage with $25 and make regular contributions to purchase shares of an index fund. Anything is better than nothing when you plan for the long-term. Over time, as your financial circumstance change, add more to your regular retirement account contributions. But getting started now will help you overcome some of your fears about retirement.
One of the worst things you can do is nothing. Take action and start investing for retirement today. You'll feel better, and you'll be motivated to make a plan to better secure your financial future.