One of the rules of thumb that has been in existence for a long time, particularly associated with retirement, is the idea that you should plan to need around 75% of your current income in retirement.
This rule has always bugged me. How many of us really expect our expenses to go down in retirement? I always assumed that my expenses in retirement would be about the same — or even rise.
Continues after Advertisement
---
---
Spending on Different Things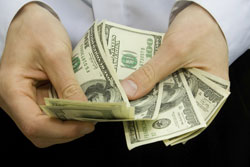 When it comes to the old rule of thumb associated with retirement costs, many people cite the fact that homes are likely to be paid off. Debt will be gone (although this is an increasingly unlikely scenario for many people). And since you aren't driving to work every day, the costs associated with transportation, keeping up a professional wardrobe, and spending on lunch and other items are supposed to go down.
While all of this might be true, does it mean that you won't have other spending priorities in retirement? My guess is that you will probably just spend on different things. Perhaps you may no longer have a house payment, but what if you decide to travel during retirement? You may not need to spend on gas to get you to and from work, but you may have a new hobby that costs just as much as your old transportation costs — or maybe even costs more.
The point of the modern retirement is that you have the chance to spend money on things that interest you. The modern retirement (if it can even be called a true retirement) isn't about sitting around on your porch all day, doing nothing. It's about experiencing the things you couldn't do while you held a full-time job. It's about trying new things — and that can take money in many cases. Rather than assuming that you will be able to make it work on 75% of your current income, it can make sense to assume that you will need just as much money, but that you will spend it on different things.
Longevity and Needing More Money
In fact, it might make sense to assume that you will need more money in retirement than you need now. One of the big reasons for that is the fact that we are living longer as humans, and that comes with a host of costs — particularly health care costs. Health care costs continue to rise, and they will probably rise during your retirement. And with people living longer than ever, there is a good chance that you will need some sort of long-term care at some point.
When you start to think about it, it makes sense to plan for higher costs in retirement, rather than planning to spend less. Consider long term care possibilities, and ways to protect your assets (perhaps with long term care insurance). That way, you will have a better chance of keeping up with your desired quality of life during retirement.
What do you think? Do you think it's dangerous to assume that you will only need 75% of your current income during retirement?