One of the easiest ways to give a gift, particularly during the holiday season, is with the help of a gift card.
Gift cards are rising in popularity because they are easy to give, and the recipient can, to a certain extent, get what he or she wants.
Continues after Advertisement
---
---
The downside to giving a gift card is that it can seem so impersonal. Giving a gift card doesn't have to be impersonal, though.
"Gift givers worry that they seem impersonal," says consumer expert Andrea Woroch. "However, you can personalize a gift card by going beyond the traditional picks like Starbucks or iTunes."
Ideas For Personalizing Your Gift Card Giving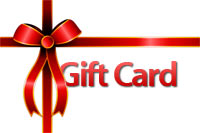 One of the first things you can do is find out what the recipient wants. There are numerous places to share a gift registry or wish list.
Amazon has wish lists that others can browse. Woroch points out that there are gift card registries that allow recipients to designate preferred stores so that gift givers can offer something they really will use.
When you know what the recipient wants, it's easier to get an appropriate gift card. It can be to a favorite store, or for an experience that the recipient might like.
My brother and his wife like to try restaurants in their area, but they don't always feel like they can spend money on a night out when they are struggling graduate students. I buy a gift card to a local restaurant, and they appreciate it, since it allows them to do something out of the ordinary.
Woroch also has other creative ideas around the way you present the gift. I usually tuck the gift card into a colorful Chinese money-holder, but Woroch has some great ideas that can make the gift fun. "Go one step further in the personalization process by wrapping it with a unique and relevant item to make it fun to open," she says. "For instance, a spa gift card could be wrapped with a soothing eye mask or body butter, while a golf store gift card can be wrapped with a sleeve of golf balls." These fun gifts are inexpensive, but it adds to the fun of the experience, and can enhance the gift card.
Get Your Gift Cards At A Discount
One of the ways you can make your gift giving cost efficient is to use discount gift cards. I often get restaurant gift certificates on City Deals, where you can save money off the face value of the gift. Woroch suggests GiftCardGranny.com as a resource for discount gift cards. "You can find discount gift cards to popular stores at average savings of 12 percent," she says.
This is a great way to give something the recipient will really enjoy — without breaking the bank. You can get everyone what they really want and save money on your holiday shopping to boot.
What do you think about giving gift cards during the holiday season? Do you try to personalize these gifts? What are your tips for saving money on gifts for the holidays?