My wife and I have been looking recently at possibly either buying a new home, or even building one if we were able to find the right lot.  Home prices are more reasonable now than they've been in a long time, and it sure is tempting to think about buying or building our dream home right now while the prices are so reasonable.
The thing is, however, so many are predicting that we still haven't hit the bottom of the real estate market, and in fact we may see a newer and lower bottom to the price floor.   While I think that idea has cooled us a bit on the idea of buying a new house right now, we're still looking, and keeping our eyes open for a mortgage company that we could use if we were to move. We're pretty sure we won't want to use Bank Of America again, for a variety of reasons. One mortgage company we're considering is CapWest Mortgage.
Continues after Advertisement
---
---

History Of CapWest Mortgage
Farmers Bank & Trust, is a small regional bank  founded in 1907 in a central Kansas town.  Their main business was with local farmers in the area.  Over the years they've grown and now have representation in several metropolitan areas in the Midwest, and across the country via the web. CapWest Mortgage, which this review is focused on is a subsidiary of Farmers Bank & Trust. From their site:
CapWest philosophies are paralleled with that of its parent, Farmers Bank & Trust, N.A., of Great Bend, Kansas; quality, honesty, integrity and ethics. A progressive national banking organization, Farmers Bank & Trust has strengthened customer confidence for over 97 years.

Since 1971, this family owned community bank has grown in assets from $4 million to more than $520 Million and maintains branch banking locations throughout the Central Kansas Region.
So CapWest is the relative newcomer to the Farmers Bank and Trust family, but they've been quickly expanding over the past decade and offering their services beyond just the Kansas area.
Better Business Bureau Rankings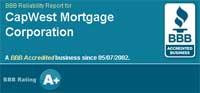 I did a little bit of research on CapWest Mortgage, their customer service, and their Better Business Bureau rankings.  While you can't always rely on the BBB rankings, it still can be one of many indicators showing whether or not a company has good customer service.   When checking out CapWest, they came through with flying colors with an A+ rating on a scale of A+ to F.  While I wouldn't stake my entire reputation on the BBB, it's at least one of many signals to check.
CapWest Rate Check
One of the most important things to consider when checking out a mortgage company – is figuring out what your rates will look like when using the company.
I came up with a hypothetical situation where I would be taking out a $300,000 mortgage on a home purchase price of $350,000 for my city here in Shakopee, MN.  Here are the rates it gave me (in April 2011), all with closing costs around $3100.
30 Year Fixed Rate Mortgage: 4.750% Rate – 4.979% APR – $16821.44/month
20 Year Fixed Rate Mortgage: 4.375% Rate – 4.474% APR – $1922.77/month
15 Year Fixed Rate Mortgage: 3.875% Rate – 3.978% APR – $2245.32/month
Their rates are going to be right in the middle when comparing to other companies I've run quotes for today.  The only thing is – if you're a Costco customer, you may be paying less – so it could mean a better deal.  To find out more details about that and to run a quote, click on the link or banner below.
Get Up To The Minute CapWest Mortgage Rates Here

Costco Member Discounts
One thing that I saw when researching CapWest was the fact that they advertise as having "special rates for Costco members".  We're not members yet, but a membership isn't that expensive – and if we could save some good money by becoming members, we'd definitely consider it.
So what are the Costco Discounts? That's where it gets a little hazy.  On the Costco.com site they talk about their approved mortgage lenders, which CapWest Mortgage is one of, and how they have capped lender fees and lower rates than might otherwise be available to non-members.
Lender Fees have been capped at $600 for an Executive members and $750 for all other members. In addition, the borrower will pay for what is typically called 3rd party fees, such as appraisal, title, and credit report. These fees vary based on the details of your loan. All out of pocket expenses, lender fees and closing costs will be discussed with you at the time of application.
So depending on just which fees are capped, and what out of pocket costs they keep lower, this could definitely save you quite a bit of money. My only suggestion is if you're seriously considering using them, give them a call and see what they can tell you the discount might be.
What Do I Think?
CapWest Mortgage has quickly popped onto my screen lately because of the buzz I've been seeing on other PF blogs, and via companies like Costco that now list them on their website as an approved lender.  From everything I've read on the Better Business Bureau site and other sources they have good customer service, and their rates are competitive. If you've got good credit (do you have good credit?) you'll probably be able to get some good rates, and if you become a member at Costco you can probably have your lender fees capped and get a lower rate.  All in all CapWest Mortgage is definitely worth checking out.
To find out more about CapWest or their mortgage discounts you can go to their site through the link below.