Our country is currently going through some hard economic times, with record numbers of people being unemployed, or out of the work force. So when folks finally get back into the workforce, it can be tough to even begin thinking about setting up a retirement plan and saving for retirement. The problem is, time waits for no man (or woman). People are in danger of having to drastically reduce their lifestyles in retirement out of necessity. In fact the Center for Retirement Research at Boston College found that 51% of American households are at risk of being unable to maintain their standard of living in retirement, up from 43% in 2004.
While we continue getting older, unless we're regularly saving for our retirement, our retirement is becoming less and less sure. So what is it that people need to get over that hump and be convinced that they need to be saving and investing for retirement? What are some things that can help make them more likely to save?
Continues after Advertisement
---
---
Visualizing Your Future Self
One thing that researchers have found is that people have a hard time thinking about the future because it seems so distant, because they don't know how to think about what their wants and needs will be in the future and because they can't really identify with where they'll be 20-30+ years in the future.    In other words, they can't identify with their future selves.  Excerpts from the WSJ:
Staring into a mirror today and seeing yourself as you will look in the year 2057 is unnerving. But that may be just what it takes to shock Americans into saving more. At Stanford and other universities, computer scientists, economists, neuroscientists and psychologists are teaming up to find innovative ways of turning impulsive spenders into patient savers…

Behavioral science offers at least a partial answer: To make long-term financial goals more achievable, you must make yourself feel as if the future is now.

The project underway at Stanford seeks to close this gap between the present self and the future self, without turning young people into misers. By enabling the young to see themselves as they will be when they are old, virtual-reality technology can transform their urge to spend for today into a willingness to save for tomorrow.

William Sharpe, the Nobel Prize-winning economist who co-founded Financial Engines Inc., a firm that provides investment advice to retirement savers, says, "The idea of getting people to feel sorry that 'Poor old me, at age 70, is going to need help if I don't save more now'—I regard this not as persuasion, but as additional information." After he heard about the technique, Prof. Sharpe asked to monitor the research and became a co-author of a forthcoming study on its effectiveness. "It's very promising work," he says.
What they found was that when people were put in a situation where they had to identity with how they would look and act in the future, they were more likely to be open to investing for the future.  Why? Because of what they call the "Proteus Effect"
The Proteus Effect
So what is the Proteus Effect?  In it's simplest terms, it's behavioral alteration in the real world triggered by changes in how our bodies appear to us in a virtual world.  In other words, things that happen virtually have a very real effect on us.
Experiments have shown that if you are sent into a virtual-reality environment with a particularly good-looking "avatar," or digital self-image, you are likely to become more sociable. Seeing your avatar exercising in a virtual world can spur you to add an hour a day to your exercise routine in the real world; people whose avatars do the dirty work of sawing down a virtual tree use less real paper later in the day. Given a taller avatar, you will act more confident and negotiate more selfishly.
What researchers also found was that when young people were shown future versions of themselves, they were much more likely to want to save for retirement, probably because they were more able to relate to their future selves, and realize they would have a need for money in the future.
"People who see their future selves end up being more patient," says Hal Ersner-Hershfield, a psychologist at the Kellogg School of Management at Northwestern University, who led the project.

In one experiment, young people who saw their elderly avatars reported they would save twice as much as those who didn't. In another, students averaging 21 years of age viewed avatars of themselves that smiled when they saved more and frowned when they saved less. Those whose avatars were morphed to retirement age said they would save 30% more than those whose avatars weren't aged.
Real World Applications
So how can we take the knowledge that feeling more in tune with your future self can help you to save, and use it to our advantage?  For starters, why not create your own age morphed photo?
Create an aged picture of yourself to put on the refrigerator or on your computer – and use it to remind you of your need to save. One great site to do that at is In20Years.com.  You just upload a photo of yourself and it will instantly age you by 20 or 30 years.  It's quite eye opening to get an imagined version of yourself – that far in the future. Here are a couple of examples done using that site, with the originals in the lower right corner: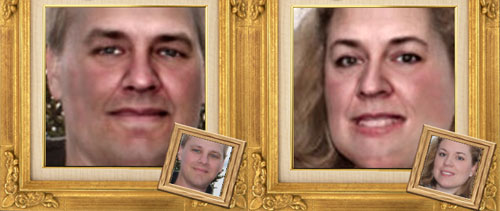 I know when I did it for myself, it certainly made me feel a bit more of a sense of urgency to save.
What are some other possible real world applications of age morphed photos?  The article suggests some:
Placing age morphed photos on a company's benefits site:  Encourage employees to save for retirement by placing an age morphed photo of them on the company's benefits page, with their approval of course.  It might be a good way to encourage savings.
Tool for financial advisors: Financial advisors could use age progressed photos as a part of their practice to help encourage people to think about the future.
Brokerages and mutual fund company sales tool:  Companies could of course use technology like this as a sales tool – which isn't necessarily all bad if it gets people to save.
Other Ways To Encourage Saving For Your Future Self
There are of course other things that you can do to feel more in tune with your "future self", to encourage your savings.
Set an actual retirement date:   Studies have found that people are more willing to put off the benefit of future realized savings, if they can imagine an exact date that they will retire. So set an actual date that you would like to retire, and even name your accounts by that date!  For example, The "May 8th 2041 Fund".
Monitor your progress regularly:  Set goals to save towards, and monitor your progress regularly. Even consider setting up prompts in Google Calendar or other software to remind you to go and update your progress on a regular basis.
Imagine how you would feel in a comfortable and worry-free retirement: Studies have shown that just taking 3-5 minutes to visualize a trouble free and relaxing retirement every once in a while and using that as a prompt to save works quite well.   People were found to be 25 percentage points more likely to increase their savings on the spot when engaging in such behavior.
What other ways can you think of that can help you to visualize your retirement, and encourage you to save today?  What tips and tricks do you use?  What do you think of the age morphed photos? Tell us in the comments!