In the past month or so we've been hearing a lot about how big banks, in the face of new regulations limiting the amount of money they can make on interchange fees to retailers, had decided to start adding new fees elsewhere in their banking operations. Unfortunately for many customers that meant in many cases that they'd be charging new fees for using debit accounts. For example, Bank of America announced that they'd be adding a new $5 fee to their debit accounts.  Others like Chase, Wells Fargo, Sun Trust and Regions banks all decided to add new fees in some form as well.
This past week many of those same banks in the face of customer anger have decided to start backing off of those new fees, or revise who would be charged the fees.
Continues after Advertisement
---
---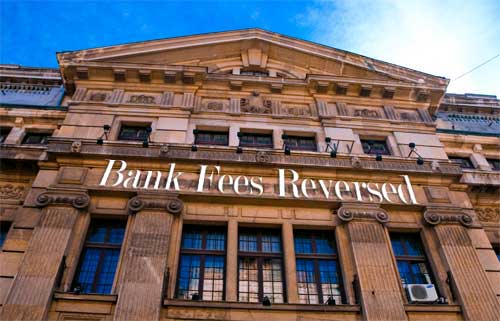 Bank of America Backing Off New Fees
Earlier today Bank of America announced that it would be backing off of the new fees to customers after other banks did the same:
Bank of America Corp. (BAC), the second- biggest U.S. lender by deposits, dropped plans to charge a $5 monthly fee for debit cards after a nationwide backlash from customers and lawmakers.

"We have listened to our customers very closely over the last few weeks and recognize their concern with our proposed debit usage fee," David Darnell, co-chief operating officer, said in a statement from the Charlotte, North Carolina-based lender today. "As a result, we are not currently charging the fee and will not be moving forward with any additional plans to do so."

Bank of America reversed course after competitors including Wells Fargo & Co. (WFC), the No. 2 debit-card issuer, decided not to charge similar fees. Atlanta-based SunTrust Banks Inc. (STI) and Regions Financial Corp., based in Birmingham, Alabama, said yesterday they will eliminate their check-card fees after customers rebelled.
So Bank of America, Chase Bank, Wells Fargo, SunTrust Bank, and Regions Bank dropped their plans to move forward with new debit usage fees.   That is, of course, good news for consumers who are still using those banks.
Why Were They Considering The New Fees?
The question is, why were the banks considering adding the new fees in the first place?
Card issuers have been seeking to replace revenue lost after the U.S. capped fees on debit-card transactions earlier this year. The limits, mandated by the Dodd-Frank Act, may cut annual revenue by $8 billion at the biggest U.S. banks, according to data compiled by Bloomberg Government.
So in order to make sure their profits remained high in the face of new regulation, they decided to bring new fees to the customers.  While to some degree I understand that this would end up happening after an ill advised government action (did they not consider the fact that retailers probably weren't going to pass the savings down to customers, and that banks would have to raise revenue elsewhere?) that causes the banks to lose billions, I think the way they went about it really helped shed some light on why so many people are taking their money and leaving the big banks for something more customer friendly.
In fact, thousands of customers have banded together to express their displeasure with the big banks by joining a movement called "Bank Transfer Day", where they'll be leaving their big banks that aren't treating them well on November 5th, and moving to local credit unions and small banks that are more customer focused.
Do You Trust Big Banks After This Fee Debacle?  Why Not Switch?
My question to my readers after this debacle surrounding whether or not the banks will start charging fees for debit accounts is this:  Has the way they have handled this situation tarnished their reputation in your eyes, and will you trust them going forward to not introduce new fees elsewhere?  Have you switched your bank yet to a credit union or smaller more customer focused bank?
I dropped by Bank of America account a while back, and have since opened an account with my new favorite bank, Perkstreet Financial.  Not only do I not get charged fees for my account, but instead they pay me 2% cash back on all my purchases!  That means they pay me almost $600/year after all is said and done.
While the big banks aren't charging the new fees at this juncture, my guess is that they'll find a way to institute new fees somewhere at some point soon.  My suggestion is to just take your money and vote with your feet – by taking your money to a better bank.
Some more customer centric places I highly recommend to do your banking:
Perkstreet Financial Rewards Checking Earlier this year I signed up for Perkstreet, and have been making 2% cash back ever since.  There are no fees on the account to speak of, and Perkstreet is extremely customer focused. Unlike other banks they're taking a part of the money they make on interchange fees and giving it back to customers in the form of cash back.  I've made over $100 already in just a couple of months.  Read my Perkstreet Review.
Local Credit Unions Follow the link to find a local credit union.  In most cases their accounts are going to be fee free and much more customer focused.
 Will you be switching your bank account from a big bank to a smaller local credit union or online bank either on November 5th, or another day? Tell us your thoughts on banks, fees, government regulation and how it affects consumers in the comments.