A while back I wrote a review of Ally Bank and talked about how we had just opened an account with them as a place to keep our large emergency fund. While we were getting out of debt we had only saved a $2000 emergency fund to cover small contingencies, but once we got out of debt we wanted to save upwards of 8-10 months of expenses. You never know when you could lose a job or have a major health event to cause problems – and having that emergency fund will give you some good peace of mind to know that you'll be just fine – even if (and when) it does happen.
We've currently got close to $30,000 in our large emergency fund, and we signed up for an account with Ally about a year or so ago to stash that cash since at the time they had one of the best bank rates around. While their rate is slightly lower than some competitors nowadays at slightly under 1% interest, we're staying with Ally for now because for the most part they've either been in line with the best rates or just slightly below. In any event you're not going to get great interest really anywhere these days unless you're willing to do something more long term like a CD or riskier like peer-to-peer lending.
Continues after Advertisement
---
---
While their rates are slightly lower than average, we've stayed with Ally because we've had really good luck with their customer service – either on the phone or on their online chat. Whenever we've called in they've picked up almost right away ( no long holds), and they've always been able to give us an answer to our questions. They also have a great website – with a simple but effective interface that makes it easy to find what you're looking for. This month Ally also announced another feature that makes their bank even more attractive. Echeck deposits!
New Echeck Deposit – Scan And Deposit Your Checks
This past month Ally announced that they were going to be rolling out to all customers the ability to take physical checks that they've received and deposit them online, without having to actually mail the check in to Ally – or go to a connected bricks and mortar bank to deposit the check and then transfer.
While this may seem like a simple thing, for a blogger like me that gets a lot of checks every month from a lot of different vendors, this is going to be a major time saver. In most months I would end up making 3-4 or more trips to the bank to deposit checks of varying size. It was a major time waster.
Now instead of driving to the bank every week or so all I have to do is fire up the computer, login to my account at Ally Bank, and go through their check scanning process.
Scanning Your Check In At Ally Bank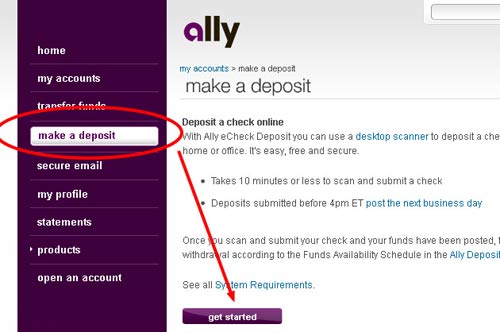 So how does the process work to scan your checks in for deposit? It's extremely simple, although at times there have been hiccups.
Login to your account at Ally Bank.
Click on the "make a deposit" link in the left sidebar as shown in the screen capture above. ( The site states that it takes 10 minutes or less to scan and submit a check. Deposits submitted before 4pm ET post the next business day)
On the deposits page you can click on "get started" button to deposit a check by scanning it in.
The site will popup a screen with a wizard that will walk you through the scanning process. First they'll confirm that you signed the check correctly with your signature, "For Ally eCheck Deposit only" and your account number.
Next they'll ask some questions about your scanner.
Enter check amount and details, and then scan the front and back of your checks. It will ask you to confirm all information including account numbers are visible on the check.
You're done! You'll get a confirmation screen like the one shown below.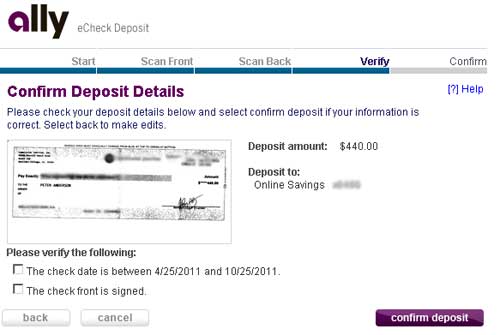 I've now deposited probably 8-9 checks via the Ally e-check deposit wizard. The first time I went through it I had some issues with the wizard not auto-cropping the checks quite right and the account numbers got cut off. That was easily fixed by re-cropping the already scanned check image.
Ally advertises that it only takes 10 minutes to deposit a check. The first time I did it I had issues and it was more like 15 minutes, but since then it remembers my settings and it takes more like 5 minutes each time. Much easier than a 30-60 minute trip to the bank.
More Features On The Horizon: Mobile Banking
Ally also announced this month that they'll be releasing mobile banking in 2012. While most folks would like to see that sooner rather than later, it sounds like they're taking the time to do it right and not release a half baked banking app that doesn't function correctly. It sounds like they're also hoping to release a mobile check deposit functionality at some point where you take a picture of your check and deposit it that way, but that will come after the mobile app is released.
Since I don't currently have a smartphone I can wait on those things, but I know some others would like to see these features as soon as possible.
Conclusion
I've been with Ally Bank now for just over a year for our high yield savings account. We're using the account as a place to keep our large 10 month emergency fund safe in case of a job loss or other large emergency. So far we've been pleased with Ally and their customer service, and their site is easy to use and navigate. The new echeck deposits just make it that much more convenient and easy to bank with Ally. I'd highly recommend them.
Have you used Ally's new eCheck deposits tool? What do you think? Does your bank have a similar functionality and does it save you time?
Open your Ally Bank account with easy eCheck deposits!