Before you tie the knot, it makes sense to get to know your potential marriage partner. One of the things it helps to know is how your potential partner will deal with finances.
My husband and I got engaged after three weeks, and married two months after that. We didn't have a lot of time to get to know each other — although we did spend a lot of time together talking about important things. We did talk about some money issues, but probably not all the issues we should have.
Continues after Advertisement
---
---
Before you get married, and especially if you decide to merge your finances, here are 4 financial things to talk about:
1. Debt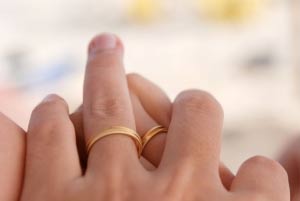 This is one of the most important things you need to discuss before you tie the knot. My husband and I talked about student loans, my credit card debt, and his car loan before we got married. You should come clean about your debt, and what you're doing about it, and your potential mate should come clean as well. Have an open and honest talk about the debt situation, and how you will tackle it together. This is a great time to lay a foundation for avoiding high-rate consumer debt in the future.
2. Income
It can be difficult to talk about income sometimes, since our society places so much emphasis on income and salary as status symbols. You might not want to appear as though you aren't making "enough." Also, it can be uncomfortable if one of you makes a lot more than the other.
Talk about your expectations for the earning situation going forward, including whether or not you have a goal to become a one-income family (or one of your working part time) as part of your arrangements. These are things to talk about now, so that there aren't major surprises later.
3. Paying the Bills
How will you pay the bills? If you decide to completely merge your finances, like my husband and I did, this isn't as a big a deal since everything goes into — and comes out of — one big pot.
If you keep some separate accounts, though, this needs to be determined. Who will be responsible for which bills? Will you have one shared account for shared expenses, like housing, utilities, and groceries? If this is the case, then you need to figure out how much you each need to put in for these items. A percentage of income, based on what you each make? Or some other method?
This is not a fun conversation, but it's one that needs to be had.
4. Financial Priorities
Don't forget to have a talk about financial priorities. You need to determine what is most important for you to spend money on. This was something my husband and I didn't do, so it was a little surprising later to discover that we didn't always have the same ideas about how to spend our money.
The good news is that we share the same views on saving for retirement and what we are willing to go into debt for, as well as how to spend on our son. The other stuff has been worked out.
Making sure that you are financially compatible (or at least working toward it) can be a big part of harmony in your finances. Talk about these things before you get married so that you can work out any huge differences and problems ahead of time.