Buying a new car requires planning and forethought. I am against leases and "zero-down" offers; these teaser promotions offer no benefit to you, but plenty of benefits for the dealerships. Dealers add an astounding amount of interest payable over the life of the car loan, mitigating any savings from an introductory promotion.
Instead of financing a new car purchase, you can save your money, and buy a car with cash. Here are four important tips to help you save for your new car purchase:
Continues after Advertisement
---
---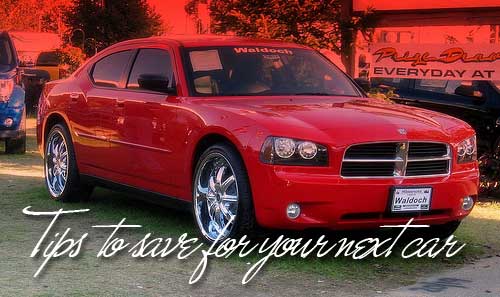 1. Don't Buy a New Car When You Pay Off Your Current Auto Loan
Many people seem conditioned to believe that as soon as they pay off one auto loan, they need to buy a new car. This kind of thinking leads to unnecessary debt, and it's why so many people end up with an upside down car loan.
I reached the age of 35 before I experienced life without a car payment – a dream come true. Once I stopped writing a monthly check for $300, I started building my savings. Today, I am still driving the car that I paid off eleven years ago, and I can pay for my next car with cash. You too can significantly improve your financial situation, and save for your next car purchase by saving $300 each month.
2. Continue to Make Your Car Payment
Even after I paid off my car, I kept the mindset that I still had to make the $300 monthly car payment. I placed the $300 surplus into an investment account, earning 4% interest. The total return on my monthly deposit, which I made for seven years, was substantial.
It takes a great deal of discipline to take "found money" and place it into a savings or investment account. When I have additional money available after paying off any type of loan, I don't think of the money as "found" or "extra" income. Instead, I continue to pay all or a portion of the monthly loan payments into a savings or investment account, to save for big purchases, and for my future.
For this to work, you have to begin depositing the loan amounts into a savings account immediately after paying off a loan. Otherwise, the money will get swallowed up by your other expenses. One month before you pay off the loan, set up the savings or investment account. When you make the final loan payment, set up an automatic transfer for the monthly loan amount. This "payment" should go from your checking account directly into your savings or investment account each month. This way, you can continue to budget around the monthly debit, and save money, without risking the reallocation of the funds.
3. Research Before Buying a New Car
Once you can afford to buy a new car, begin researching your purchase. You can do most of your research online before you visit any car lots. Seriously consider whether you really want or need a brand new car, and review options for used cars.
Contact dealers via the Internet to ask questions and to eliminate some trips to dealerships. You should know the exact make and model of the car you want to buy before visiting any dealerships. Research dealership pricing online to have a base idea for the sale price of the car you want to buy. Lastly, consider actually buying a car online. You can buy cars from eBay Motors, and many dealerships have Internet sales managers. You can often negotiate a better price online, and when you complete the online deal, you can pick up your car.
Also consider buying a used car from an individual instead of buying from a dealership. The dealerships inflate prices, so you can often find a better deal when you buy directly from a person. If you have reservations about buying a used car, buy a model that is still under manufacturer's warranty and have a trusted mechanic check out the car for any potential problems or issues.
4. Make Short-Term Sacrifices
Make short-term sacrifices to save for a big purchase. For example, I love going to baseball games. Buying tickets for a ballgame, paying to park, and purchasing refreshments can cost over $100. When I commit to saving for any major purchase, I forgo baseball games for six months, or until I reach my goal.
However, if I wanted to save $5,000 to buy a car, I would have to do more than just give up baseball for a season. What could I do to save $5,000 in twelve months?
Stop going to baseball games for one season, for a total savings of $500.
Stop buying new clothes for one year, a savings of $50 a month, for a total savings of $600.
Reduce my satellite TV package by $20 per month for 12 months, for a total savings of $240.
Downgrade my current Internet service for six months, for a total savings of $240.
Continue to make my monthly $300 "car payment" after paying off the loan for my current vehicle, for a total savings of $3,600.
If I continue to make my $300 "car payment" for one year, stop going to baseball games, stop buying new clothes, and cut back on my satellite TV and Internet services, I could save up to $5,180 by the end of the year, plus interest. Remember, short-term sacrifices don't have to be permanent. Keep your end goal in mind, and focus on the benefits of saving while you try to save for a new car.
Final Thoughts
I paid my car off eleven years ago. If my car dies tomorrow, I can easily replace it with my savings. I planned carefully, saved money through various means, and made short-term sacrifices. Now, I am in a position to buy a new car with cash.
By utilizing some of these tips, you can save enough money to buy a new car. What other ideas do you have to add to your car fund?
David Bakke writes about his life and money topics on Money Crashers, a personal finance blog focused on helping readers better manage their money and grow wealthy.