One of the most difficult issues to overcome is debt. If you have a lot of debt, it can be difficult to move forward with your finances. The interest payments suck away your disposable income, and once you are stuck in the cycle, it can take serious effort to get out.
In some cases, you might even need help dealing with your debt. You can get help from a legitimate counselor with the National Foundation for Credit Counseling, or get help from a fee-only financial planner.
Continues after Advertisement
---
---
Here are 3 signs that you might need to seek professional help with your debt: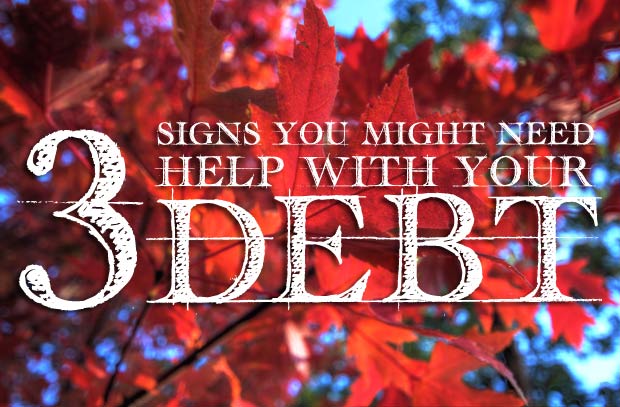 1. You Only Have Enough for Minimum Payments
When you only have enough money to make minimum payments, that's a huge red flag. It means that you aren't in a position to actually make a solid dent in your debt. Paying only the minimum basically covers your interest, and then maybe a few extra dollars toward principal. It means that you will be in debt for years to come.
If you find that you just can't make more than the minimum payments on your debts each month, you might need professional help to identify strategies you can use to change the situation.
2. You Feel Overwhelmed and Constantly Overlook Bills
If you have so many bills that you can't keep track of them all, that could be a sign that you need professional help with your finances, and with creating a debt pay down plan. Sometimes, you don't miss bills on purpose; you just have so many it's hard to remember what you've already paid, and other bills slip through the cracks.
You might be able to use various tactics and strategies to consolidate some of your bills so that there aren't so many. At the very least, a professional can help you work out a schedule that works with your cash flow reality, and get you on track to stop missing payments or forgetting about some of your bills.
3. You've Tried Before, But Nothing Seems to Work
One of the most frustrating things about debt is that it can be a cycle. If you've tried on your own to beat the cycle of debt, and you keep failing, it might be time to bring in a professional. Sometimes, it's hard to complete overwhelming tasks without support and accountability.
A credit or financial professional can help you work out a path that is likely to "stick" for you, and then help hold you accountable for your progress. Look for someone who can be supportive and helpful, and create a plan that makes sense for your situation.
Bottom Line
You don't have to do everything alone. It's tempting to try to beat debt on your own, and in some cases it's even possible to put together your own debt pay down plan. However, for many of us, a little support and help is needed. Getting professional help can be one way to change your current debt dynamic. Look around to figure out your options, and then choose a professional that truly can help you get back on your feet.