Technology has been rapidly developing to the point that it's possible to do almost anything with the help of a smart phone. You can get directions, pay your bills, and save coupons with the help of your smart phone. And, increasingly, your mobile device is getting to the point where it can be used as a credit card.
Electronic Wallets
There are different companies, from Visa to Google, developing electronic wallets. You can store information about your credit cards and other payment methods in your smart phone, and then use them to pay for items at the store — without the need for a huge physical wallet in your back pocket. In some cases, these wallets are even developing the ability for you to wave your phone in front of a terminal to complete the transaction. (Right now, a lot of these wallets work mostly on loyalty programs and gym memberships, since you only need to scan a barcode.)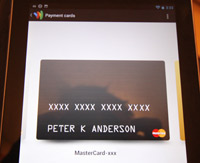 The technology that would be used by cell phones in this manner is called near-field communications (NFC). However, many stores don't have NFC capabilities with their card readers. The result is that, until more stores adopt this technology, you need to store your payment information attached to a barcode, or use some other method (Home Depot, for example, allows you to access your PayPal information and pay with PayPal at its terminals).
Some credit card issuers are starting to get around this, though. Consumer Reports Money Adviser points out that some issuers, particularly Citi, are sending PayPass stickers that you can place on your cell phone. These stickers use the RFID PayPass technology that many retailers have incorporated. This is where you tap the terminal with your card, and the frequency is used. No need to swipe the magnetic strip. These stickers are one way to convert a cell phone into a credit card without the need for NFC technology to be adopted.
Can You Protect Your Electronic Wallet?
What you really want to do, though, is make sure that your electronic wallet is well protected. If you have information saved on your smart phone, make sure you have a lock-down app. These apps allow you to lock the phone so that if it is lost or stolen you can prevent someone from getting in and using your personal information. There are also apps that allow you to remotely wipe the cell phone, turning it into an expensive paperweight.
With the sticker, though, you have to be more careful. If you lose your phone, or have it stolen, you can't exactly disable that sticker without calling and canceling your credit card. Additionally, you have to make sure that the sticker doesn't fall off your phone, leaving a random RFID sticker for someone to use. If you don't notice the sticker is gone, it could be hours or days before you begin to rectify the problem.
In the end, technology is likely to continue changing the way we interact with money. This isn't necessarily a bad thing. However, it's important that you understand the challenges and prepare to boost your security, even as you enjoy the benefits.