Last year, the Huffington Post published an article about how many Millennials are delaying marriage. The piece highlights the fact that, for many men, the average age for a first marriage is 28.7 and for women it is 26.5. (When I got married, more than 10 years ago, my age of 22 was older than Utah's average marriage age; these days it's younger.)
Why the delay? The Huffington Post article indicates that college debt is likely a factor. After all, few couples want to start out with a load of student loans to pay off. (Although it didn't stop my husband and me.) But there might be other reasons as well. Perhaps young, single professionals are so anxious to get a partner for their money.
Continues after Advertisement
---
---
Women and Money Today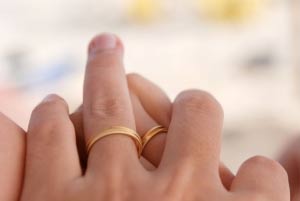 One of the reasons there might be a delay in marriage is that fewer women need men to help them on the road fo financial viability. With more women serving as breadwinners, there is less of a need for someone else to take partial responsibility for finances. Indeed, Stephanie Sims, the managing editor at Chicago Agent magazine makes this observation:
Single women homebuyers make up 20 percent of all homebuyers, and a percentage higher than single white men homebuyers at 12 percent. The correlation I draw from this, especially as it's becoming more acceptable to be a single mother and a single working mother, combined with skepticism about marriage due to the ever-increasing divorce rate, I believe more and more singles are making big investment decisions on their own and not waiting for a life partner to make them with.
While Ms. Sims doesn't have hard evidence to back up her correlation, I think she makes what is probably a good point. Women are making more money than they have traditionally. Additionally, there aren't the same social stigmas attached to being a single mother. And, while for many single working mothers the situation is very difficult without a partner, for the young professional who has an established career and relatively stable finances, it's more about choice. When will I start a family? And do I need to wait for the "right" partner to adopt or to get pregnant, when I can do it on my own?
The situation of the successful young professional woman is different from the single mother who got married and then suffered through a divorce, or from the young woman with an unplanned pregnancy who doesn't have the same level of career and financial success.
But when it comes to Millennials who haven't married, and have no children, the dynamic might be a little different. Whether you are a man or a woman, you might not feel the need to have a partner in your big money decisions — including those related to having children. When you are financially free already, and you get to do what you like with your money, it might not make sense to look for a partner for your finances. And, when you do, it might make sense to keep some of the money separate.
It's an interesting world out there, with more people waiting until their careers are settled to be married, and some deciding that it just isn't necessary. What do you think? Do you think that young professionals are moving away from financial marriage partnerships?