My wife and I are currently thinking about upgrading our home because the prices in our market are so much cheaper than they've been for years, it almost seems like it would be a bad idea not to jump in and buy the home of our dreams. After all, it'll probably never be this affordable again, right?
When I was looking around the web this week I saw a post over at GoBankingRates.com talking about how just how much the home prices have gone up over the past few decades.  It seems like they've been going up at an ever exponentially increasing rate.  In fact, median home values are 7 times higher than they were 70 years ago, when the first housing census was done in 1940.  That means in 1940 the median home value was $30,600 while in 2010 it is $219,700.  That's quite a jump.
But here's where the numbers get even crazier. From GoBankingRates.com:
Between 1950 and 1960, the median price of a home rose from $44,600 to $58,600–an increase of roughly 23 percent. However, from 2000 to 2010, the average home price went from $119,600 to $219,700, which is a jump upwards of 84 percent over a similar 10-year period.
So while mortgage rates are nearing all time lows this year, we're still seeing record numbers of foreclosures and people going into default. The reason?  So many of those people are still buying homes that they can't afford, and since the unemployment rates are hovering around 10%, many people have lost their jobs, and even if they could afford these homes in the first place – once they've lost a job it becomes unmanageable.
When home prices go up on average over 84 percent over a decade, the home prices are getting to a point where they're not really realistic anymore. In my opinion there needs to be a correction, and I think the real estate market may be in it for the long haul now.
Current State Of Home Affordability Infographic
Here's an infographic from GoBankingRates.com that looks in depth at our current housing situation. Lot's of interesting data here.  (click to enlarge)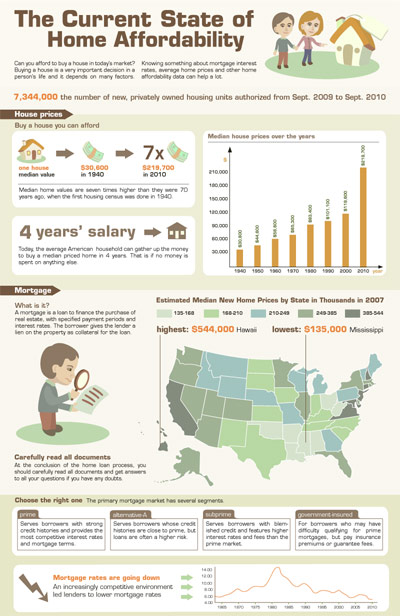 Find the best bank rates at GoBankingRates.com. via: Credit Score Blog