Recently, Kiplinger released a list of cities with the best paying job opportunities. It is no surprise there there are a number of people hiring movers and trying to get to these areas.
The site also has an interactive map that shows where the best paying jobs are — and the worst. I'm not surprised that the major cities in my state of residence, Utah, are among the worst paying in the nation. I've seen first hand how much people can expect to make here. Some of the cities with the better paying jobs include Washington, D.C. and Manchester, New Hampshire.
Continues after Advertisement
---
---
The rankings were based on the number of job openings available that pay more than $50,000 a year. The idea is that you can look at some of those cities with higher paying jobs, and consider whether or not to move to any of them. It doesn't seem like a bad plan, as long as you actually do plan.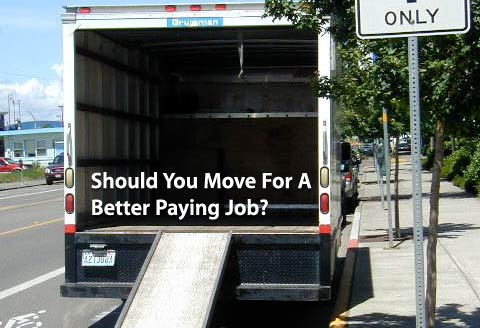 Do You Have the Skills to Land One of Those High Paying Jobs?
One of the first things you have to do is honestly evaluate yourself and your skills. Are you qualified for a higher paying job? In many cases, higher paying jobs require some sort of certification, or education. If you aren't qualified for the better paying jobs, it might not do you any good to make the move, since you won't be any better off. Before you pick and move cities, check to see what kinds of job openings are available, and make sure that you are qualified to work them.
Have You Considered Cost of Living?
It's great that Washington, D.C. has a relatively high number of $50K+ jobs available. But, stop and think for a minute: How far would $50K go in D.C.? I mean, if you wanted to have a high quality of life. One of the things you need to take into account when figuring out where to live is what things cost. How much is housing? Food? Transportation?
You also need to decide what kind of neighborhood you want to live in. If you want a higher quality of life, you have to pay more for it. Many people can't afford to live the good life on $50K a year in some of the cities that have high paying jobs.
Disposable Income
As you consider the cost of living, contemplate what it would do to your disposable income. After you pay all your obligations, and take care of your needs, what's left over? Sure, you're not going to receive good pay here in Utah. However, $35,000 a year will go further here than $50,000 would go in D.C.
With my current annual income, I live pretty nice here in Utah. I have a home that I can afford — with a mortgage payment that is less than 1/5 my monthly income. Food prices are mostly lower than what I paid when I lived in New York, as are utilities, gas prices and other expenses. If I were to move somewhere else, my money wouldn't go nearly as far, and I wouldn't be able to enjoy a lot of things that I get to do now.
Before you become too excited about the prospect of making more money by moving, consider the factors involved. You might be better off staying where you are and earning a little less.