If your teen is itching to get a part-time job to bring in a little extra cash, keep in mind that not all jobs are created equally. 
If he chooses to work in the fast food industry, he should choose carefully because some fast food companies offer impressive college benefits that can save your child thousands of dollars (or you, if you're looking to further your education!) !
Continues after Advertisement
---
---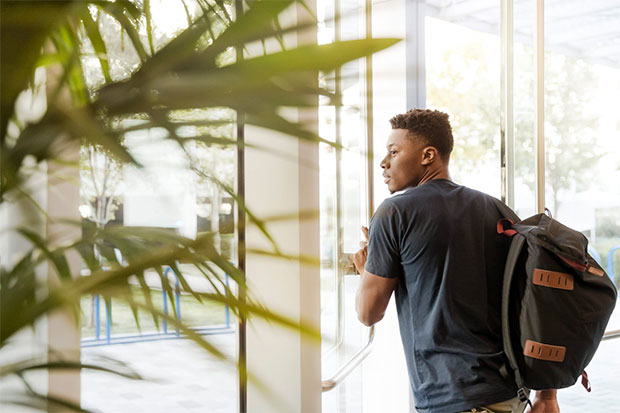 Let's jump in and take a look at some fast food jobs that offer to help pay for college.
Chipotle
Chipotle recently announced that they've instituted a new program to allow their employees to go to college debt free. 
Chipotle will cover the full cost of 75 different business and technology degrees in select colleges and universities including: the University of Arizona, Bellevue University, Brandman University, Southern New Hampshire University, and Wilmington University. 
The only caveat is that employees must work for the company for 120 days before entering this program.
Starbucks
Starbucks will reimburse the full amount employees pay to attend Arizona State University's online program.  The company reimburses tuition costs after each semester ends.
Employees are eligible from the first day of employment, but they must work 20 hours a week.
They currently have more than 10,000 people taking advantage of the program.
Pizza Hut
Pizza Hut has a Life Unboxed EDU program for all employees. Pizza Hut partners with Excelsior College to offer all employees and their immediate family 45% off undergraduate tuition. 
In addition, Pizza Hut will cover $5,250 per year in tuition, books, and fees for each full-time salaried employee. 
Pizza Hut pays for the classes, so students are not required to have the money up front to pay and wait for a reimbursement.
Papa John's
Papa John's International will be offering free tuition to Purdue University Global for 20,000 corporate employees and discounted tuition for employees at franchise-owned stores.
To be eligible corporate employees are eligible once they have worked 20 hours a week for at least 90 days.
Franchisees' employees get a 20% reduction in tuition costs on associate or bachelor's degrees and 14% on master's degrees.
Marco's Pizza
Marco's Pizza has partnered with Bellevue University to offer $5,250 in tuition assistance to all full-time and part-time employees who attend the college full-time.
If immediate family members also attend Bellevue University, they will receive yearly tuition assistance of $2,625.
To qualify, employees must have been employed for at least 90 days before applying.
McDonald's
Mcdonald's has the "Archways to Opportunity" tuition program that will pay up to $2,500 annually for tuition for eligible crew members.
To be eligible for the program you used to have to work there for 9 months, but they've recently dropped the timeframe to only 90 days of employment.
McDonald's announced it would increase funding for the program to almost $150 million over five years, and over 400,000 employees would be eligible.
Chick-Fil-A
While Chick-Fil-A doesn't offer to pay their employees' tuition, they do partner with nearly 100 colleges that offer discounts of 5 to 30% off tuition for Chick-Fil-A employees.
In addition, every year, Chick-Fil-A offers scholarships for their employees. The largest scholarship is a one-time award of $25,000 to be used for college. Twelve employees receive this scholarship each year.
Up to 3,000 employees receive a smaller scholarship of $2,500 for the year. Employees can apply for this scholarship every year, so potentially, employees can earn up to $10,000 over their four years of college.
KFC
Employees of Kentucky Fried Chicken can receive a grant for $2,000 per year to an accredited four year or two year university of their choice. 
Employees can reapply each year, and on subsequent years will receive $2,500 per year.  Managers will receive $3,000 per year.
Taco Bell
Like Chick-Fil-A, Taco Bell partners with various universities and colleges to offer discounts of 5 to 30% for Taco Bell employees.
Taco Bell also offers the Live Más scholarship for employees between the ages of 16 and 24. Applicants must submit a video no longer than two minutes that tells of their life passion. 
According to Taco Bell, the scholarships are not based on financial need but on passion.  Recipients can reapply if they've used up 75% or more of their originally awarded Live Más scholarship.
White Castle
White Castle offers a 10 percent tuition discount to employees who enroll in a degree offering through Indiana Wesleyan University.
Full and part time employees are eligible to receive discounted tuition, however some degree programs (like nursing) are excluded from the discount.
Make Some Extra Money & Get Free College Tuition
When it comes to applying for fast food jobs, clearly not all jobs are created equal. 
Before applying to local restaurants, carefully research the companies' employee benefits, especially as they pertain to college. 
If you choose wisely, not only will you be making money through your fast food job, you'll also be saving money as you make your way through college.
Have you worked at a fast food restaurant that offered college benefits?  If so, what benefits did you receive?  Would you recommend the program to others?