You may have never heard of economist and wealth manager Harry Dent but many students of the economy have. Harry Dent wrote, The Great Boom Ahead, which predicted the financial bull market of the 1990's. He also predicted that the 2000s would see the Dow Jones Industrial Average soar to 40,000 but later revised that down in 2006. His predictions are often extreme but for those who believe that history repeats itself, it would be irresponsible to dismiss his predictions as the words of a dooms day profit. He believes that it won't be long before the world economies will have a financial meltdown not seen since the Great Depression.
What do you need to know about the details of his forecasts and how dire are they? If he's right, what should you do to protect yourself against this complete meltdown of the world monetary system? Don't say we didn't warn you.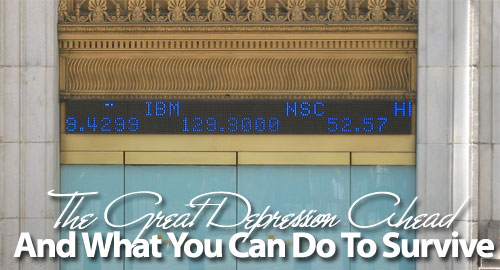 Harry Dent
Harry Dent has taken his share of criticism. Although there are a lot of people who make dire predictions in order to get a little face time with the financial media, Dent has years of research to support his claims. Not all of his predictions have panned out but the research behind those predictions is studied by best of the world's economists.
One of his best known theories has to do with long term spending habits. He believes that once a person has kids their spending picks up and once their children graduate from college spending turns to paying down debt and saving for retirement. According to Dent, spending peaks at an average age of 50 years old. He believes that the baby boomer generation had an average peak of spending in 2009 which represents that top of the stock market for the foreseeable future.
His Predictions
To sum up his ideas, the only reason we haven't seen a complete economic meltdown is because the United States Federal Reserve continues to print money and artificially stimulate the economy but the banking crisis has left so many consumers and businesses drowning in debt that there is no amount of stimulus that can allow the economy to recover. The only way to recover, according to Dent, is to allow it to correct without the help of artificial stimulus.
Another one of Harry Dent's theories is that when a bubble bursts, it returns to its pre-bubble level. This, according to him would put the Dow Jones Industrial Average at 3,600 to 5,000. He also sees gold correcting to a price of $400 to $500 per troy ounce and home prices falling significantly more. Florida, Dent's state of residence may see home prices fall as much as 30% to 35% before the bottom emerges. Finally, he believes that unemployment could rise to as much as 15%. If his predictions are true, this would represent a crisis not seen since the Great Depression. He believes that all of this could begin as early as 2012.
What Can You Do?
If he's right, first he suggests selling your home and renting until the crisis comes and goes. He also believes that now isn't the time to believe that the markets will recover if you need money for retirement. Once the crash starts, demand that your financial adviser pull your money out of the market and in to ultra-safe investments. Once the markets bottom out, it may represent the buying opportunity of your life.
Bottom Line
His critics are quick to point out that Harry Dent has made his fair share of incorrect predictions. He may be too severe in his forecast but it's hard to argue that with the amount of debt held by governments and even more important, individual households presents a problem. Unless the government can find a way to get household debt to a manageable level nationwide, there is very little that can be done to prevent a meltdown. Most economists agree that further stimulus of the financial markets may be detrimental to the markets.
Do you believe Mr. Dent? If you do, you're not alone. Let's hope that he's wrong.