I've written reviews of quite a few banks on this site, which you can find either through the sidebar on this page, or through the savings account page. While none of the banks really have what you would call great rates right now due to the current economic environment, there are a few that have stood out for me when it comes to other things like ease of use and great customer service. Two of my favorite banks that I've reviewed have been Ally Bank and ING Direct. You can read some reviews of those banks here:
Those two banks are the two companies that I actually use and where I've currently got savings accounts open. One of them, ING Direct, I use for goal savings using their easy to use multiple sub-accounts option. If I'm saving for a car, a vacation or anything else I'll just set up a sub-account where I can save for that goal. Ally I use for my large 10 month emergency fund. I've been very happy with both over the past couple of years, and hope to continue using them.
Yesterday, however, I heard some interesting news. It sounds like Ally Bank is currently in talks with ING to buy their US ING Direct online banking division.
Ally To Buy ING Direct?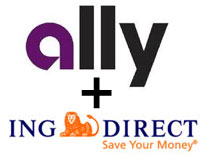 So why would Ally Bank want to buy ING Direct, and why would they want to sell? ING Group is actually required to sell ING Direct by the European Union after they gave them a $14 billion bailout from the European Union back in 2008. Because of that they've been considering offers not only from Ally, but from Citi Group and others. As of right now Ally's offer has come the closest to getting a deal done.
Ally Bank is looking to buy ING Direct because they'd like to increase their deposit base in order to have some more stable assets as they wind down some of their troubled lending assets. From the New York Post:
Sources told The Post that Ally, the automobile and home mortgage lender, is looking to acquire the online banking business to boost its deposit base and further fortify the lending giant, which accepted a taxpayer handout during the height of the financial crisis.

Ally's interest comes as the bailed-out lender, formerly known as GMAC Financial, prepares for an IPO in the second quarter. Sources said that increasing its deposit base could be a positive that bankers use to attract investors.
Where Are They Now?
So having Ally buy ING is an interesting proposition, but how close is it to becoming an actual deal?  According to some sources the deal is pretty far along, and the online bank could fetch in the neighborhood of 10 billion dollars.
ING Direct could fetch as much as $10 billion in a sale, according to sources, although it's not clear what deal terms ING is discussing with potential buyers.

Sources said the ING discussions are relatively "far along" but warned that they could still fall apart. A spokeswoman for Ally declined to comment for this story.
So it sounds like they're getting close, but the deal isn't done yet. My bet is that Ally will want to get the deal done sooner rather than later as they prepare for an IPO in the second quarter, and having a more solid deposit base could be a good sign for investors.
What Does It Mean For Account Holders?
So what could it mean for account holders if Ally does end up buying ING Direct?  The effects aren't completely clear, but at least some think it could mean that rates could drop a bit in part due to there being less competition.  From bankrate.com:
I asked Bankrate's senior financial analyst Greg McBride about how accountholders fare when their bank is acquired by another institution. He said that while he didn't want to comment on ING specifically, what happens to deposit rates after a buyout depends on who acquires the bank and why.

McBride says that if the bank is being acquired by a competitor in the same segment, usually yields will suffer, because that bank is probably looking to grow market share by consolidating the competition.
So what do you think of the potential Ally Bank/ING Direct wedding? What would it mean for account holders? Will it be a good or bad thing? Tell us in the comments!