Foreclosure is never going to be an easy process to go through.  When you're going through it you're most likely losing your home, losing a piece of your security and it's shocking to be having to leave the place you've lived for years.
While going through foreclosure isn't an easy process, it isn't exactly an uncommon happening these days.  Thousands of people are going through the same thing, and the banks are seeing a glut of foreclosed homes piling up on their ledgers.
Owners of more than 14 million homes are in foreclosure, behind on their mortgages or owe more than their properties are worth, said RealtyTrac Inc., a property-data company in Irvine, California.
Because of the large number of troubled mortgages on the books, some banks are now making moves to offer incentives to homeowners in order to get them to sell their properties for less than they owe before they go foreclose.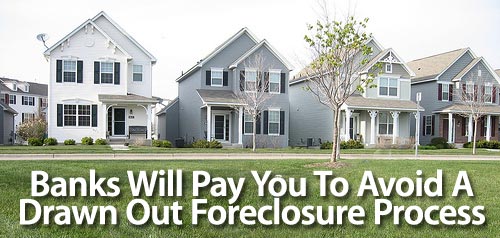 Banks Offer Streamlined Process And Incentives For Short Sales
Because the foreclosures have been piling up, and because foreclosures usually result in the bank losing more money, some banks are now making moves to pre-approve short sales.  In the past the short sale process could take months – or longer.  In addition to pre-approvals, some banks are even offering incentives and cash payments to homeowners in order to get them to sell and move.
Banks, accelerating efforts to move troubled mortgages off their books, are offering as much as $35,000 or more in cash to delinquent homeowners to sell their properties for less than they owe.

Lenders have routinely delayed or blocked such transactions, known as short sales, in which they accept less from a buyer than the seller's outstanding loan. Now banks have decided the deals are faster and less costly than foreclosures, which have slowed in response to regulatory probes of abusive practices. Banks are nudging potential sellers by pre-approving deals, streamlining the closing process, forgoing their right to pursue unpaid debt and in some cases providing large cash incentives, said Bill Fricke, senior credit officer for Moody's Investors Service in New York.

Losses for lenders are about 15 percent lower on the sales than on foreclosures, which can take years to complete while taxes and legal, maintenance and other costs accumulate, according to Moody's. The deals accounted for 33 percent of financially distressed transactions in November, up from 24 percent a year earlier, said CoreLogic Inc., a Santa Ana, California-based real estate information company.
So to recap, some of the things that banks are now more willing to do in order to avoid a foreclosure include:
Pre-approving short sale deals
Streamlining the closing process
Forgoing their right to pursue unpaid debt
Providing large cash incentives
While in the past the banks may have preferred a foreclosure, now that values have dropped so much and there are so many foreclosed homes on the books, many banks want to avoid adding new ones to the books – especially when it means they'll have other holding costs associated with the properties.
Banks spend an average of 348 days to foreclose in the U.S., and then another 175 days to sell the property, according to RealtyTrac.  If the banks can avoid that and sell the house at a loss, they're often more than willing.
Big Cash Incentives To Sell
While not everyone is offering cash incentives to people to do a short sale or deed in lieu of foreclosure, there are quite a few big banks doing just that.  One borrower received a letter from JPMorgan offering her the chance to sell her home and get a big check.
Karen Farley hadn't made a mortgage payment in a year when she got what looked like a form letter from her lender.

"You could sell your home, owe nothing more on your mortgage and get $30,000," JPMorgan Chase & Co. (JPM) said in the Aug. 17 letter obtained by Bloomberg News.

Farley, whose home construction lending business dried up after the housing crash, said the New York-based bank agreed to let her sell her San Marcos, California, home for $592,000 — about $200,000 less than what she owes. The $30,000 will cover moving costs and the rental deposit for her next home.
While it's clear that not everyone will be getting large settlements, quite a few people will be getting notifications of cash incentives and debt forgiveness.
JPMorgan, the biggest U.S. bank, approves about 5,000 short sales a month. It generally offers $10,000 to $35,000 in cash payments at settlement, real estate agents said. Not all of the sales include incentives.
Beyond JPMorgan, some other banks like Wells Fargo, Citigroup Inc. and Ally Financial  have been known to offer incentives as well.  The payments are being offered in some cases as "relocation assistance"  while in others people are saying that the offers are being made in order to get people to help sell the homes and keep them clean and kept up while they try to sell.  Still others have criticized the banks saying that assistance is being offered in some cases where there may be faulty paperwork, as would have been covered by the recent foreclosure settlement.
So how will you know if you're eligible?  In many instances you'll receive a mailing from your bank telling you about pilot programs that offer incentives – which aren't available in all areas.   In other cases it may pay to contact your bank and see if they have any programs that offer "relocation assistance" or debt forgiveness on a short sale.
Beyond incentives from banks and mortgage companies, some people may be eligible to receive payments from the governments Home Affordable Foreclosure Alternatives program which supplies payments to servicers, investors and homeowners who complete short sales.
What do you think about this news? Do you think the banks should be offering these incentives, and does it make sense for them?