As a long term investor, I do everything I can to ensure that my returns are as high as possible over the long haul.
What sort of things am I doing to ensure that I come out ahead?
I'm doing my best to keep my investments diversified, and keeping the costs for my investing low. Typically people can see fees, commissions, expense ratios and account costs eat into their end returns, and it doesn't have to be that way. There are now free alternatives!
I recently discovered a new hybrid brokerage and robo-advisor called M1 Finance. They give you the flexibility to invest in their preset portfolios using diversified ETF index funds, or you can invest in individual stocks, like with a traditional brokerage. Best of all, they're fee free!
In this review we'll take a deep dive on M1 Finance and what they have to offer, so let's get started.
M1 Finance Founding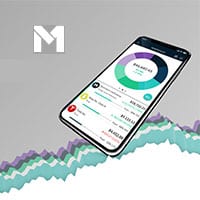 M1 Finance launched in September of 2016. 25 year old Stanford graduate, Brian Barnes, founded the company. From Business Insider:
When Brian Barnes graduated from Stanford in 2012, he had a hard time finding a tool with which he could invest in the stock market on his own. This prompted him to start his own online brokerage site, M1 Finance, at 25 years old."What I was trying to do seemed relatively basic," Barnes penned in a recent post on M1's site. "I wanted to be able to pick my investments, and have recurring deposits automatically added to those allocations."And that's exactly what M1, which has $60 million under management, allows users to do. M1 users can pick the stocks they want to invest in and then they can determine what percentage of their portfolio they want each position to make up. M1 automatically updates as you put in more money and as stock prices fluctuate to maintain your preferred portfolio allocation. So if you want Apple to make up 25% of your portfolio, M1 will balance your portfolio as such. That means you can't buy one Apple share, or one Amazon share. It's all about the portfolio.
M1 Finance gives you the automated investing tools of a robo-advisor, with the fine control over your individual investments like a traditional brokerage.
The cost for using M1 Finance is pretty darn cheap. It's FREE to use the basic service! So let's get into the details.
M1 Finance – Opening An Account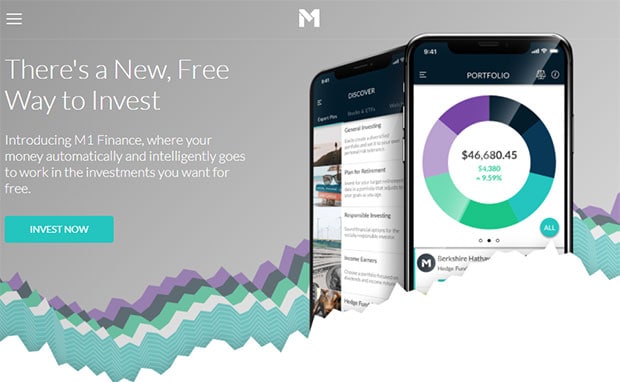 To open an account with M1 Finance first you have to choose what type of account you want to open:
Taxable Investment Accounts
Roth IRA
SEP IRA
Traditional IRA
Trust Accounts
Rollover IRA
There is a 3 step process. First you'll enter basic details like name, email, password, and then you proceed to:
Build Your Portfolio: M1 Finance's "Pie" portfolio concept will be introduced, and you'll walk through the process of creating your portfolio.
Start Your Brokerage Account: Choose your account type and complete your profile details for your account.
Deposit Money Into Your Account: Link your account that you'll use to fund your M1 Finance account.
There is no minimum amount to open an account, but to invest you'll need at least $100 in your account. Personally I decided to drop $1000 in there right away to get started. Your free account can be opened through the link below.
Open Your FREE M1 Finance Account Now
The Details Of How M1 Finance Works
M1 Finance is one of the most flexible robo-advisors available at this time. Many robo-advisors will give you the option of only a few pre-built investment portfolios, ones they've built for a general audience. Usually the only changes you can make are to the ratio of stocks to bonds included in the account.
M1 Finance gives you granular control over your investments if you want it.
Pie Investing
M1 Finance has an investing concept that they use where they call individual investment portofolios "pies" .
Pies are the basic organizational structure for your investments. The pie can have as many as 100 slices to it. Each individual slice can be an individual stock, an ETF or even another set of investments via another pie.
Each slice that you've added to your pie is assigned a percentage of the total pie, and when dividends are paid out, or funds are added to your account, the system will do it's best to ensure that the percentages stay consistent.
If you're not adventurous and want M1 Finance to do the work for you, they have over 60 pre-built pies that you can choose from. Want to choose one of their pies and then add a couple of individual stocks to it? You can do that too!
Pie Types
The pies that M1 has created are broken down into 8 types or categories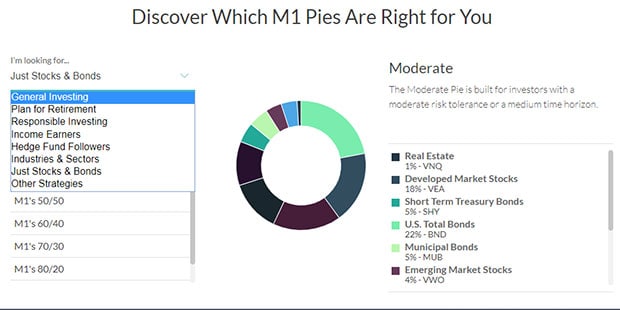 General Investing: Build a diversified portfolio that's based on your personal level of risk tolerance.
Plan for Retirement: Invest in a portfolio that is tailored for you and your target retirement date.
Responsible Investing: Invest in socially and environmentally friendly investments.
Income Earners: Choose investments based on dividends and income returns.
Hedge Fund Followers: Aims to emulate the strategies of successful investors and hedge funds with good reputations.
Industries and Sectors: Invest in specific sectors like aerospace, biotech and more.
Just Stocks and Bonds: Gives you a highly diversified portfolio with a total world stock fund, and a bond fund.
Other Strategies: Other popular investment strategies that you can use to meet your goals.
Create Your Pies And Start Investing
Once you have chosen a stock pie from M1, or have customized your own, the pies will now live in your dashboard. You can add as many (or as few) pies to your account as you want, with the one caveat that a "portfolio generally cannot hold over 500 individual positions".
Once your pies are built and saved in your dashboard, there are a few things to remember.
All trades are made by M1 Finance at 9AM central on days that the New York Stock Exchange is open for business.
Once the amount of cash in the account reaches $10, it will be auto-invested.
For every new contribution or dividend deposit, M1 will invest those funds into under-weighted slices of your pies, in order to bring them into balance. New contributions and dividend reinvestment will aid in automatic re-balancing .
You can do a manual account re-balance as well through your dashboard, either on a specific pie, or on your whole portfolio.
M1 Finance Apps On Mobile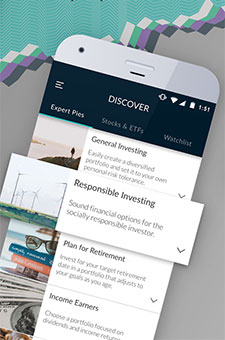 M1 Finance has well reviewed mobile apps available for both iOS and Android. I've tried it and it looks great!
The apps allow you to do most things you can do on the website including creating your portfolios, setting up automated investments, re-balancing your portfolio pies, and more.
M1 Borrow
Earlier this year M1 Finance announced a new feature of their accounts that would allow you to borrow money from M1 Finance at a rate that is extremely low, 4%.
How does it work? Let's say you want to build a deck on your house. You can instantly borrow up to 35% of your account balance at a low rate of 4% to make that happen.
There is a caveat. Your brokerage account has to have a $10,000 balance or greater.
How does 4% rate compare when looking at other traditional loan types? It compares pretty favorably.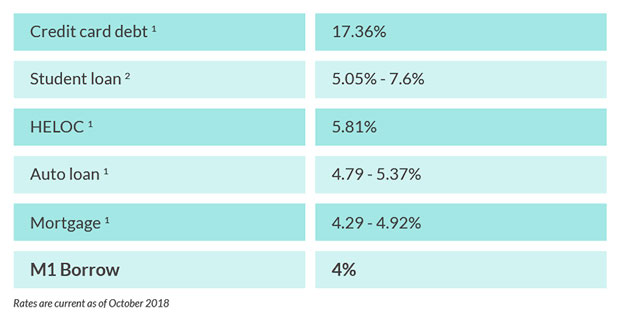 The nice thing about borrowing from your account is that there is no paperwork, credit checks or application denials to worry about. Just have an account with $10k balance and you'll be able to borrow up to 35% of the balance at a rate lower than you can find in most other places.
M1 Finance Comissions & Fees
One of the biggest pros that M1 Finance has at this time is the fact that they are a fee free service, and there is no minimum to open an account.
If you want to invest your funds there is a $100 minimum with a taxable account, and a $500 minimum for retirement (IRA / Roth IRA) accounts. That's still a pretty low bar for most folks.
M1 Finance used to have an annual management fee for assets under management, but they made a positive change and dropped that fee. The following things are all now fee free:
Management fee: FREE
Trading fees: FREE
Re-balancing fees: FREE
Dividend reinvestment fee: FREE
If you're looking for where some fees might reside, M1 Finance does have fees related to transferring funds via wire transfer, or to do a full account transfer out. That's pretty standard though, and regular electronic funds transfers (EFT) are free. To see a full listing of their administrative fees see their fees disclosure page.
M1 Finance – Flexible, Low Cost, Easy To Use
M1 Finance is a cool new investing platform, and it's one of the best I've come upon in the last few years.
They're similar in some ways to other robo-advisor platforms in that you can deposit your money and choose a preset investment portfolio, and set it to auto-invest, but they're much more flexible than most.
Not only do they have pre-built portfolios, but you can create your own investment pies that include any combination of stocks, bonds or other pies. Just find what you want to invest in and add it to your pie – there are no trading fees!
M1 Finance is one of the more innovative, low cost investing companies available for regular investors. I recommend giving it a try.
Open your free account through the link below.
Get Your M1 Finance Account Now!