When it comes to finding more money in your budget, there is only so much you can do to cut your spending and live frugally.
At some point, you might find that you can't cut anymore — or that you don't want to (after all, life is about living, too). This is when it becomes obvious that you might need to come up with some additional income.
This is fortunate because there are a number of ways you can start a side hustle to get a little extra cash.
If you have a pickup truck, your options might even be a little more varied. Here are 4 side hustles you can start if you have a pickup truck: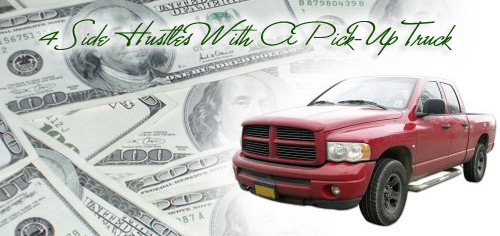 1. Hauling
Many people need stuff hauled away — but they don't have pickup trucks. I am lucky that my husband's cousin lives in town and has a pickup truck. He was a real life saver when we needed stuff ruined by flooding taken away. Advertise your services on fliers or in low-cost "service directories" in your local newspaper. Or just let your neighbors know. Being able to haul various items can be a great help.
2. Delivery
Another option is to provide delivery services locally. Many people order big items, but don't have a way to get them back home. Find out what local stores charge in delivery, and charge a little less if it makes sense for your truck (sometimes fuel costs can be prohibitive). Let people know that you'll take them to pick it up in your truck for less.
3. Moving
Help with cross town moves. You can charge for moving items from one location to another. Figure out how you can benefit others by helping out, as well as make a little money. The fact that you are another pair of hands to help get the job done may prompt many to hire you and your pick-up truck to help, as opposed to renting a truck and having to do all of it themselves — even if you cost a little bit more.
4. Yard Care
Someone who does yard care needs to have a way to haul equipment around. This is where a truck can come in. You can load up lawnmowers, trimmers, rakes and other equipment and take it to your clients' homes. This is a time-honored side hustle that can really provide a valuable service for those who don't have the time or ability to care for their own yards.
Things to Consider
One of the things to remember to do is to keep a good mileage log when you are on the job. This is tax deductible against your business income. Make sure that you only track miles for business purposes, though; miles for personal use are not tax-deductible. You do have to remember, though, to follow the laws in your state and city.
Before you start a side hustle using your pick-up truck, make sure you find out about insurance requirements, and business license requirements. You don't want to run afoul of the law while you are engaging in your side hustle.