As you look forward to another year, you're probably thinking of some goals you'd like to accomplish. Even if you don't set formal New Year's resolutions, chances are that you probably have some expectations for the coming year, and some things that you'd like to make happen.
If you still have high-interest consumer debt, now is probably a good time to tackle that. The current situation with the economy is likely to change, and when that happens, you might find yourself paying more in interest than you would like after this year.
Fed Taper And Rising Interest Rates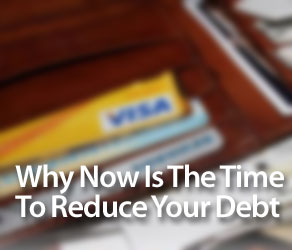 Since before the financial crisis, the Federal Reserve has been taking steps to keep interest rates low. After the financial crash, and after the Fed cuts rates as far as they could go, they took it a step farther and actually started adding to the monetary supply. All of this has meant super-low interest rates.
For savers, it's been something of a nightmare. For those with debt, though, the relatively low rates mean that more of their payments are going toward reducing the principal on their debt.
Now, though, the Fed has begun to taper its asset purchase program. The economy is picking up, and that means that interest rates are likely to rise. Debt is probably going to cost more by the end of 2014, and that means that it's probably time to act now.
Get Rid Of High Interest Consumer Debt
If you still have credit card debt or other high-interest consumer debt, now is the time to kick up your repayment. Call your creditors and see if you can get a bit of an interest rate reduction. If balance transfers are options, make use of them so that you can lock in lower rates. Take a day to work out a plan that can help you improve your finances and help you reduce your debt.
Lock In Lower Rates Now
It's also a good time to lock in lower rates. At some point in the relatively near future, rates on 10-year Treasury notes are going to rise. Mortgage rates are tied to these yields, so that means mortgage rates are likely to rise. They're already higher as compared the rate I got when I refinanced my house in early 2013. They are only likely to go up as the economy improves.
Car loans are also offering good deals right now. If you normally finance your cars (I know, I know, a cardinal sin), locking in now can make sense. Refinance your car or home, and you can save on your monthly payment and save on your overall interest.
Do You Have To Pay Off ALL Debt?
The good news is that you don't have to pay off all of your debt right now. I'm not fussed about paying off my mortgage early, and I am comfortable with my current car loan payment. I'm also in no hurry to pay off my student loans. Why? Because all of these loans are locked in at very low rates. My mortgage rate is low, my car loan and my student loans are below 2%.
My investment returns are higher than what I pay in interest on these low-interest loans, and the interest on the mortgage and student loans is tax-deductible.
Consider your situation, and what makes sense for you. If you have high-interest consumer debt, think about speeding up your pay off schedule.