I've always been a big proponent of trying to simplify your financial life when you have a chance. Cutting back on the number of accounts, automating savings and retirement contributions or even starting to get your bills sent to you via email or online.
Even for those of us who try to keep things simple, there can be times where we get a bit overwhelmed with all of the accounts that we have. Everything from utility bills, cell phone bills, credit cards, rewards programs, magazine subscriptions, cable TV subscriptions and more. That's a lot of stuff to keep track of!
Continues after Advertisement
---
---
A couple of months ago I was made aware of a newer site that proposes to simplify your online accounts, and aggregate them all in one place. This isn't another Mint.com or Adaptu.com clone, but instead it's a place where you can aggregate all your bills and statements from all of your accounts – not just your banking and retirement accounts. So today I want to do a review of Manilla.com.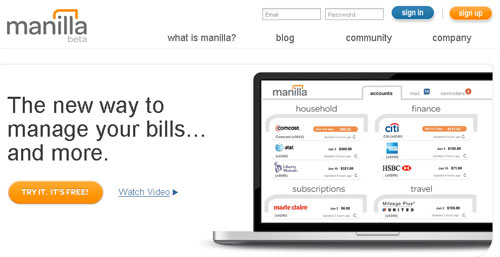 Manilla: A Startup To Watch
Manilla.com only became a public product back in June of 2011, so it has only been live for a short time. In that time, however, they've gotten quite a bit of positive press, being named one of Time Inc's "10 NYC Startups To Watch" in addition to positive reviews on a variety of traditional media including the New York Times, USA Today and Cnet.

The aim of the site was to make people's financial lives less confusing by keeping all of their accounts, subscriptions and services all in one place. It also serves the purpose of being a clearinghouse and archive for your bills and statements just in case you need to go back to an old bill to check something out.
In addition, the site aims to partner with large companies in order to cut back on waste and expense made by sending out un-needed or unnecessary bills and statements every year.
According to the United States Postal Service's 2010 Annual Report, businesses in the United States send 48 billion account notices, statements and bills to customers each year. That's a lot of paper that ultimately ends up in garbage dumps and paper shredders.
The companies help shoulder the cost of the site because in the end it's helping them to save money. For us, that means the site is FREE.
Manilla's Free Signup Process
It's free to signup and use Manilla, and it only takes a short time. It took me literally like 5-10 minutes to enter all of my information.
Enter your name, zip, email, password and answers to 2 security questions.
You'll then be asked to confirm your account via email.
After the account is confirmed you can start adding new accounts to Manilla.
After signing up for the site it will ask you for details on the accounts you want to enter into their system, usually a username and password. For me I set the site up to track and receive my bills and statements for my mortgage company, my banks, my satellite TV provider, phone company, and wireless provider. You can also track magazine subscriptions, utility companies, Netflix subscriptions, loyalty programs, groupons and a variety of other things.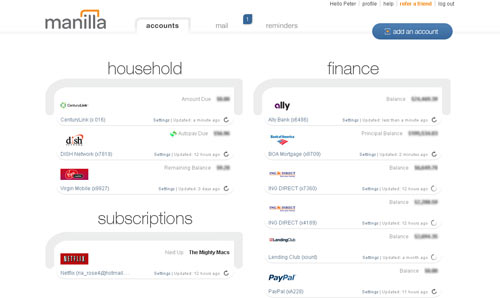 After you add your accounts to the system you can go to your accounts screen (shown in the screenshot above) and if necessary add any security questions or fix any problems with the accounts. I did have to go in a fix a couple.
There were a couple of accounts that I couldn't add to Manilla currently, including my Betterment account and our local utility provider for water and electricity. We'll see if they get added to the loop soon.
Manilla: What Does It Do?
So it's all fine and dandy that you can add all your accounts to Manilla, but what can you do once they're all in there? The main idea behind the software is to simplify your accounts, bills and statements. It will send out bill reminders every month, as well as allowing you to store your statements and bills online indefinitely – just in case. No more bulging filing cabinet!
Automate Your Accounts
Manilla makes it simpler to manage your accounts from utilities and cell phone bill to your magazine subscriptions and Netflix account. After you set it up you just need the one login in order to access all of those accounts, and you can go to one place to see if anything is coming due, or to see what you're paying for everything. If you want to, you can even initiate payment for your bills through your account, clicking on their handy "pay now" buttons next to each account bill.
You can see a listing of all your accounts in the dashboard, and you can quickly get more info by clicking on the company logo for whatever one you want.
Get Reminds To Pay Bills, Alerts
If you have bills coming due you can setup custom SMS alerts or emails to be sent when your bills are coming due. The alerts can be set to send 1, 3 or 7 days before the bill is due. If you have an overdue bill or an issue with an account it will send alerts for those things as well. It is fully customizable as well, so if you don't want alerts because you're using autopay or something along those lines, you can turn them off.
Something else I like with the account is that you can go into your reminders tab in the website and view your bills either in a list in order of when they're coming due, or in a calendar format. Having the calendar is nice because it gives people like me a more visual look at when I'm supposed to pay certain bills.
Archive Statements, Bills And Account Notices
One of the main reasons for Manilla was to help cut the clutter and paper from our lives. No more statements in the mail, instead you get them in your Manilla acount.
Want to look up that extra charge from 4 months ago so you can get it refunded? Go to your account and view the bills for that provider by filtering the bills on the mail tab. The statements are available to download, print or send via email at any time. You will also always have free storage for all of your virtual mail as long as you have an account.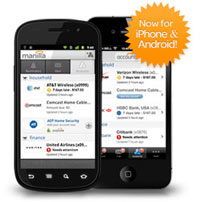 Manilla Has Mobile Apps
If you've got a mobile phone either of the Apple variety or Android – you're set to go. Manilla has mobile apps for you to use on both platforms. I haven't had a chance to try them out yet, but I'm sure they work fine and mirror the functionality on the website if you want to give them a try.
How Manilla Has Helped Me Already
I've been using Manilla for a few months now and it has already come in useful for me several times. I have setup all my account bills and statements to get sent to Manilla, and I'm now receiving reminders when bills are coming due. While I have most things on autopay anyway, it's good to get reminds on the few things that aren't. It has saved me from a late fee at least once.
I also had an issue a month or two ago with my satellite TV provider. I was overcharged for the service and needed to get a copy of a bill from several months prior to help track down why it was happening. I just went to my Manilla.com account, filtered by Dish Network, and there was the bill ready for viewing. Very handy! I was able to get the bad charges reversed, and Manilla was extremely helpful in helping me track down the information I needed from the old bill – quickly and with no hassle.
Manilla.com provides a cool service, and the site is free to use. Because of that I'd highly recommend signing up for an account and at least trying it out to see if will be as helpful for you as it was for me. You can find out more details through the link below.
Try Out A Free Manilla.com Account
http://www.youtube.com/watch?v=coH-BvWwqDE